What's the difference between regular and Greek yogurt?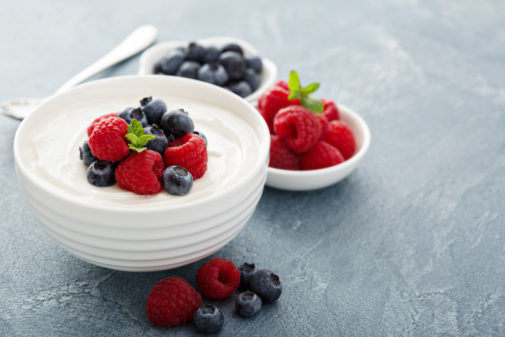 Scanning the options within the yogurt aisle at your local grocery borders on sensory overload. The array of choices is considerable and with the growing popularity of Greek style yogurt in recent years, it begs the question: Is there really any difference between Greek yogurt or traditional yogurt?
The long and short of it is that both traditional and Greek yogurt are both fermented dairy products. Both contain healthy nutrients, such as magnesium and vitamin B12 and offer a number of health benefits. Greek yogurt is thicker and tangier than regular yogurt because it is strained. As part of the straining process, the amount of lactose is reduced. That in turn reduces the amount of carbohydrates and sugar found in traditional yogurt.
"Greek yogurt also contains more protein and is more satisfying, in addition to being lower in carbohydrates than traditional yogurt," Amy Lee, a dietitian at Aurora Medical Center in Burlington, says. "It's good for a snack with fresh berries or can be added to smoothies with fruit."
Lee said the reduction of lactose in Greek yogurt offers important benefits, particularly for those who are lactose intolerant.
"People who are lactose intolerant often tolerate Greek yogurt better than traditional,'' she said. "This offers a great option and is especially important when building a well-balanced diet."
Related Posts
Comments
About the Author
Andy Johnson, health enews contributor, is a public affairs coordinator with Advocate Aurora Health. He's been with Advocate Aurora since 2000 serving in various internal and external communication roles. He previously worked as a reporter and editor for the Journal Times and Burlington Standard Press. He enjoys kayaking, biking, and camping but most of all, spending time with his family.