New program saves limbs in patients with critical limb ischemia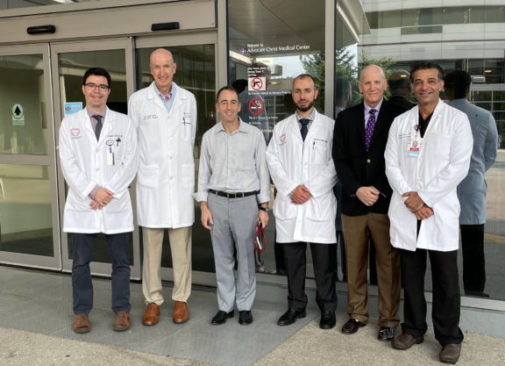 Patients in need of limb salvage know it. It comes with a tremendous amount of pain and can even be life-threatening. People with advanced diabetes, gout, peripheral artery disease and other conditions are candidates for limb salvage, and doctors will tell them they may need amputation if things progress.
But Chicago-area patients with  peripheral artery disease (PAD) and Critical Limb Ischemia (CLI) have a better chance at saving their limbs from amputation, now that a new, collaborative effort has officially launched at Advocate Christ Medical Center in Oak Lawn, Illinois.
This new collaboration links existing vascular surgeons, interventional cardiovascular specialists, podiatrists, infectious disease specialists, and emergency medicine physicians. This multi-disciplinary team of experts, together with quality metrics and algorithms to streamline care, is expected to improve outcomes in these high-risk patients. The goal is to identify patients with threatened limb loss from PAD and prevent major amputation.
"Although the participating specialties already existed at Advocate Christ Medical Center, this collaboration officially brings them all together," said Dr. Martin Ellenby, vascular surgeon. "All of us working together for one cause is important. It may lead to more timely intervention."
Advocate Christ's limb salvage initiative comes on the heels of the successful Limb Salvage Program at Advocate Trinity Hospital, in Chicago, which reduced the hospital's major amputation rate from 30% to 1.5%.
"We demonstrated a significant reduction in amputation rates when collaborating in a structured limb salvage program and following quality metrics and outcomes at Advocate Trinity Hospital," said Dr. Jaafer Golzar, interventional cardiovascular specialist, director of Advocate Trinity's Limb Salvage Program and a lead of the collaborative limb salvage program at Advocate Christ.
The hope is that by extending the program to the larger medical center in Oak Lawn, more patients across the Southland and beyond will have greater access to limb saving treatments.
"Not every patient who presents with gangrene and threatened limb loss needs a major amputation. Just because amputation is recommended at an outside institution, patients should consider other options at centers that specialize in limb salvage. We see amputation as a last resort."
The Advocate Christ Medical Center's limb salvage team has a long history of successfully treating patients referred from other Advocate sites, as well as out-of-state patients from as far away as Baltimore, New Jersey, Michigan and Houston.
Today, most patients with gangrene or dead tissue are recommended to get amputation. But this multi-specialist approach will save many of the limbs that were recommended to be lost. No other hospital in the area is doing this as a formal program at present.
Related Posts
Comments
About the Author
Cassie Richardson, health enews contributor, is regional coordinator on Advocate Aurora Health's Public Affairs team. She has more than 10 years of experience in health care communications, marketing, media and public relations. Cassie is a fan of musical theater and movies. When she's not spreading the word about health and wellness advancements, she enjoys writing fiction.