Can kids get the COVID-19 vaccine and the flu shot at the same time?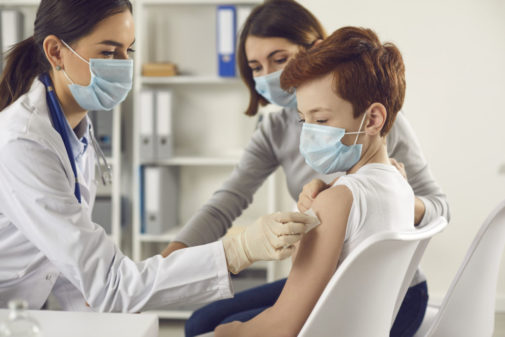 With flu season just around the corner, parents may be wondering if it's safe to schedule a flu shot when the possibility of an Emergency Use Authorization for the COVID-19 vaccine for ages 5 through 11 is also on the horizon.
The CDC announced that it's safe for people to receive both the flu and COVID-19 vaccines at the same time. For kids who are eligible, they can even get them at the same doctor's visit.
"We're anticipating a rough flu season," said Dr. Hollis Redmon, a pediatrician at Advocate Children's Hospital. "With COVID and the flu together, that's a setup for a lot of severe illnesses. These vaccines are what's going to help us get through this."
When parents come to her with questions about flu shot side effects, Dr. Redmon said the most common ones like redness, pain or swelling at the injection site, fever, muscle aches or a mild headache generally subside in a few days.
"The COVID and flu vaccines can be safely given together at any time, but if patients or families are concerned about possible reactions, they should schedule the vaccines to be given at a doctor's office rather than pharmacy," Dr. Redmon said. "It may be prudent to schedule dose 2 of the COVID vaccine for when the child does not have school or other important activities in case they developed more intense side effects."
Although there's mixed data about in-person learning versus virtual, her patients have told Dr. Redmon how hard it is to stay engaged in virtual learning and how they miss their friends. Most of them were excited to return to in-person learning, she said.
"Being vaccinated against both COVID and the flu will help keep them in person," Dr. Redmon said. "Being vaccinated reduced the risk of getting these infections and passing them on. The fewer cases of these viruses in the schools, the more likely schools are to remain in person. If cases spike again, it may be necessary to switch back to virtual learning to protect this vulnerable population."
Now is the perfect time to make an appointment with a primary care physician. Whether you live in Illinois or Wisconsin, it's easy to find a doctor near you. 
Related Posts
Comments
About the Author