Nurse navigators help breast cancer patients through journey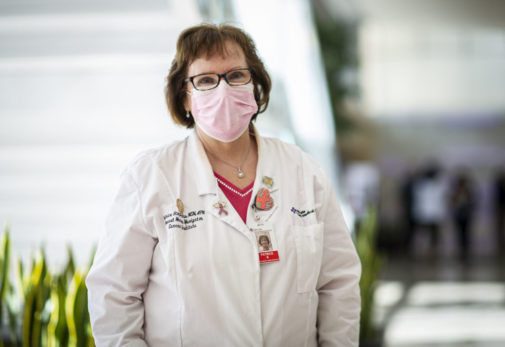 Everyone copes with a breast cancer diagnosis differently. Feelings can range from shock and anger regarding the news and quickly move to anxiety when thinking about treatment and what the future has in store.
While learning you have breast cancer can be devastating, breast cancer nurse navigators, such as Patrice Stephens, APN, who works at Advocate Christ Medical Center in Oak Lawn, Ill., ensures her patients feel a sense of hope, healing and security as they move through the clinical process.
When a patient is in the treatment phase, it can be overwhelming as they meet with radiologists, medical oncologists, surgeons, plastic surgeons, radiation oncologists and genetic consultants. Navigators like Stephens serve as the consistent face and voice for the patient as they travel through the maze of appointments, procedures, tests and treatment.
Stephens has her entire career working in oncology, first as a bedside nurse and nurse educator before she transitioned to her current role. She gets to know her patients on a personal level so that she can provide them with the appropriate level of emotional support, information and resources.
"Each patient's response to their diagnosis can be very different," said Stephens, who has worked as a navigator for 22 years. "Some patients take in the news, process it and are ready to move forward right away with the next steps. Others require additional information, frequent contact and more emotional support. I treat each patient as an individual to ensure their needs are being met. Working in this world for so long, I feel I'm able to gage how much information to give, how much support is needed and when to give it."
When Kristie Johnson was diagnosed last year with Stage 3 Triple Negative and Inflammatory Breast Cancer, she was shocked. Johnson had a lot of questions about what to expect during treatment. She connected with Stephens right away.
"Patrice is like a human angel," Johnson said. "She was my go-to person because I had so many questions. If she didn't know the answer, she would do some research and call me back with more information."
While Johnson was recouping after her mastectomy, Stephens stopped by her room to see how she was feeling.
"I cried tears of joy when I saw Patrice because it was the first time we were meeting in person," Johnson said. "We had talked so much prior to that day that I was just so happy to see her in person. She always made sure I had everything that I could possibly need. She followed up with me on a regular basis to make sure that I was ok. I am so grateful to have had Patrice with me during this journey."
The ability to create a strong bond with her patients and help them through a difficult time continues to fulfil Stephens on a personal and professional level.
"As their navigator, I want my patients to feel there is a personal connection between us, and make their experience supportive, powerful and one they will not forget. I also want to help my patients move forward with living beyond cancer, developing a more meaningful sense of hope and healing, and a bond that will continue between us into the future," said Stephens, who often keeps in touch with patients and their family for years after an initial meeting.
"It's very special to be able to touch people's lives every single day and help them through some very difficult days," Stephens said. "I'm blessed to do what I do and to live a purpose-driven life."
Related Posts
Comments
About the Author
Johnna Kelly, healthe news contributor, is a manager of public affairs and marketing at Advocate Christ Medical Center in Oak Lawn. She is a former newspaper reporter and spent nearly 10 years as a public relations professional working for state and county government. During her time as a communications staffer for the Illinois General Assembly, she was integral in drafting and passing legislation creating Andrea's Law, the nation's first murderer registry. In her spare time, she volunteers at a local homeless shelter, enjoys traveling, photography and watching the Chicago Bulls.