Are you feeling more down than usual? You're not alone.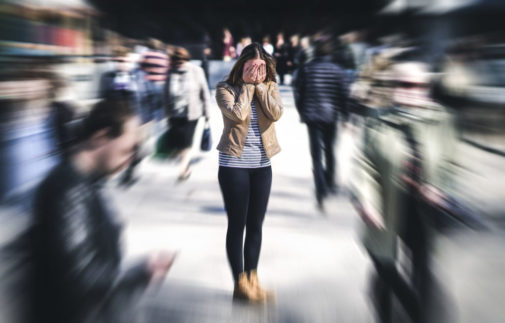 The long months of the pandemic have posed one unprecedented challenge after another, providing little time for respite for people suffering from mental health difficulties.
More people are suffering from mental health challenges, too. The Centers for Disease Control and Prevention reported that more people were suffering from anxiety and depression disorders in 2020 than in 2019.
"I think it's the persistent nature of all of these stressors that are going on, not just with COVID but with our society," Dr. Shannon Gritzenbach, a psychiatrist and medical director of Outpatient Health Services at Advocate Good Samaritan Hospital, told the Chicago Tribune. "Many of us can mount a good coping strategy and coping response to acute stressors, but when these stressors become chronic, it wears down even the best of us."
Those challenges can mean an increased risk for suicide. People who are having suicidal thoughts might show certain behaviors that loved ones can watch out for, such as talking about feeling trapped or in unbearable pain, talking about being a burden to others, the increased use of alcohol or drugs, sleeping too little or too much, showing rage or talking about seeking revenge, and displaying extreme mood swings.
Dr. Gritzenbach said for those who experience suicidal ideology, that loss of hope can be dangerous. Those experiencing suicidal thoughts should reach out to a crisis line, she said. The National Suicide Prevention Lifeline provides free, confidential, 24/7 support by phone 1-800-273-TALK (8255) or an online chat is also available.
But for those simply looking for ways to cope and elevate their mood during challenging times, Dr, Gritzenbach suggests regular exercise, getting outside, meditation or mindfulness activities and socialization – even if it's a regular Zoom call with friends. During the winter months, she said creative solutions like light therapy boxes can be useful.
And regular check-ins with a therapist can help with anxiety and depression. Dr. Gritzenbach said most of her patients like the ease of virtual therapy using video calls. It makes this important part of health care more accessible, she said.
"We tend to get more anxious or depressed when we lose perspective of something being temporary," Dr. Gritzenbach added.
Some ways to cope with suicidal thoughts or feelings include:
Talk with someone every day, preferably face to face
Make a safety plan
Make a written schedule
Get out in the sun
Exercise
Make time for things that bring you joy
Remember your personal goals
If you're looking for a behavioral health provider, click here if you live in Wisconsin. Click here if you live in Illinois.
Related Posts
Comments
About the Author
Kate Thayer, health enews contributor, is a public affairs coordinator with Advocate Health Care. She spent nearly two decades as a journalist, most recently as a reporter at the Chicago Tribune. Throughout her career, Kate has written about public health, politics, government, education and legal issues, along with human interest stories. She enjoys running, podcasts and her twin daughters.