One in four older Americans does this every year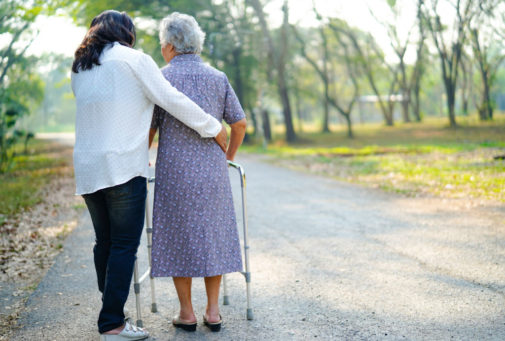 You might not think of it as a major public health issue, but one in four older Americans falls each year, according to the Centers for Disease Control. Falls are the leading cause of both fatal and nonfatal injuries for people over the age of 65.
While falls are common, the good news is that they are not a normal part of aging and can be prevented.  Some of the common factors that can lead to falls are the following:
Balance and gait: As you age, most people lose some coordination, flexibility, and balance – making it easier to fall.
Vision and Hearing: As we age, vision changes making contrasting edges, tripping hazards and obstacles harder to see. New research suggests hearing loss can also contribute to the risk of falling.
Medications: Both prescription and over-the-counter medications may cause dizziness, dehydration or interactions with each other that can lead to a fall. Talk to your doctors if you're feeling symptoms.
Environment: At least one third of all fall risk involve environmental hazards in the home. Simple modifications to the home can improve safety as we age.
Chronic conditions: More than 90% of older adults have at least one chronic condition like diabetes, stroke or arthritis. Often, these increase the risk of falling because they result in lost function, inactivity, depression, pain, or multiple medications.
Here are 6 easy steps you can take to help you or your older loved one reduce their risk of a fall:
Know your fall risk
It's important to know if you or your loved one are at risk so that you take steps to reduce this risk.  A yes to any of the following 3 questions would indicate a risk for falls: Have you had a fall in the past year?Do you worry about falling? Do you feel unsteady when standing or walking
You can also further understand if you are at risk by completing the Falls Free Check Up from the National Council on Aging.
Speak up
Talk to your health care provider about your fall risk as well as medical conditions that could increase falls. Be honest about your fear of falling or recent falls so that they can direct you to appropriate next steps. Be sure to take advantage of preventive benefits offered under Medicare and other insurance plans
Check your eyes
Adults over the age of 50 should have an annual eye exam. If you wear glasses, make sure your prescription is current and that you wear glasses as advised by your eye doctor. Remember that using tint-changing lenses can be hazardous when going from bright sun into darkened buildings and homes. A simple strategy is to change glasses upon entry or stop until your lenses adjust. Bifocals also can be problematic on stairs, so it's important to be cautious. For those already struggling with low vision, consult with a low-vision specialist.
Keep moving
Exercises that improve balance and strength are most effective in reducing fall risk. Exercise may be done in a group, as part of a comprehensive fall prevention class, or even at home. Talk to your doctor before starting an exercise program and consider seeing a physical therapist to have a program specifically designed for your needs. The most important aspect of exercise is to stick with it.
Talk about your medications
Talk to your doctor or pharmacist about medication changes and side effects, as many can cause dizziness.  Use one pharmacy for all medications when possible and ask for an annual medication review.  Be sure to read the labels on over the counter medications as well for side effects that increase fall risk.
Make your home safer
There are many simple and inexpensive ways to make a home safer. For professional assistance, consult an Occupational Therapist. For example, increase lighting around the house, especially at the top and bottom of stairs. Ensure that lighting is readily available when getting up in the middle of the night.Make sure there are two secure rails on all stairs. And install grab bars in the tub, shower and near the toilet. Make sure they're installed where your older loved one would actually use them. For even greater safety, consider using a shower chair and hand-held shower.
For more ideas on how to make your home safer, the CDC offers a home assessment checklist in multiple languages. Visit www.cdc.gov and search "falls checklist" to download a copy. Partner with your older adult loved one to do a home assessment and discuss opportunities to improve safety.
Suzanne Ryer is a board certified geriatric physical therapist with Advocate Aurora Health Senior Services in Milwaukee.
Related Posts
Comments
About the Author
Suzanne Ryer is a board certified geriatric physical therapist with Advocate Aurora Health Senior Services in Milwaukee.