Your guide to surviving the holiday eating frenzy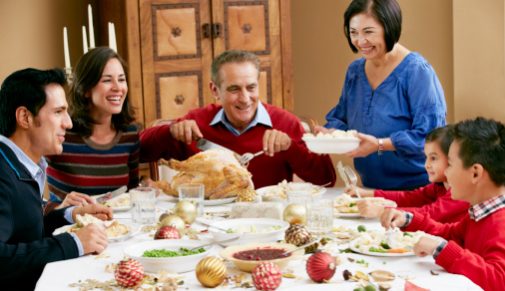 Here are some alarming facts to chew on during the holiday season.
According to the Calorie Control Council, a typical American Thanksgiving dinner contains a startling 3,000 calories. And that doesn't include the mindless snacking and drinking that can pack on an additional 1,500 calories and nearly 230 grams of fat. That's like consuming two days' worth of food (including the amount of fat in three sticks of butter) in one sitting.
But don't think you're out of the clear with Thanksgiving long past us, because it's not the only holiday with a nutritional landmine threatening our healthy eating plans. Beginning with Halloween and ending with champagne on New Year's Eve, the season can wreak havoc on our efforts to maintain a normal weight.
So what is a holiday food lover to do?
Dr. Jennifer DeBruler, an internal medicine physician with Advocate Medical Group, who is also board-certified in obesity medicine, says there is hope for those determined not to be consumed by the holiday eating frenzy. She says it's critical to have a strategy.
Here are Dr. DeBruler's six best tips for navigating the season. 
Have an eating plan
Mindless grazing at parties can have you consuming 500-1,000 more calories than intended. Decide ahead of time how much you are going to eat and stick to the plan.
Don't diet for weight loss
The holidays are an extremely hard time to try and lose weight. Instead, your goal should be to just maintain your current weight until the season passes and focus on weight loss in the coming year.
Portions, portions, portions
Rather than eating until you are stuffed, eat until you aren't hungry. If you find that you're still hungry 15-20 minutes after eating, then go for one last small helping. But give yourself some time to become satiated before eating more.
The pitfalls of alcohol
It's important to remember that alcohol can be deceptively high in calories. The other problem is that when you drink too much, you tend to get hungrier and may end up eating much more than you planned.
Consider food swapping
As tempting as grandma's butter-laden mashed potatoes are, consider swapping those out for a bigger helping of healthy vegetables. Instead of a big hunk of pecan pie, bring along some fresh strawberries with a tiny touch of whipped cream as a healthier option.
Get moving
In order to better metabolize your food intake, try and get some light exercise in before your meal. Take the family for few quick laps around the block before sitting down for the feast. The same holds true for after the meal. A short walk will help digestion and keep you from nodding off in front of the TV.
Check out Dr. DeBruler's video about surviving the holiday eating frenzy here.
Take our Healthy Weight Assessment to learn whether you're within an ideal range and how the number may be affecting your life and future.
Related Posts
Comments
About the Author
health enews staff is a group of experienced writers from our Advocate Aurora Health sites, which also includes freelance or intern writers.