"I want them to know they can feel comfortable in my care."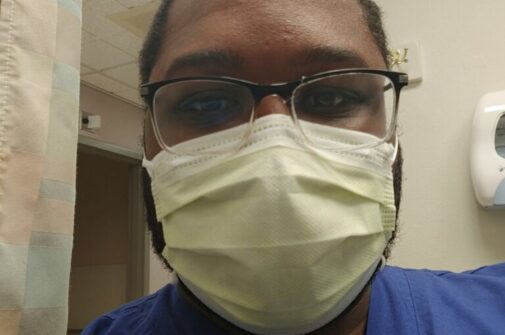 When Antonio Humphrey's godfather was diagnosed with congestive heart failure in 2002, he saw how the condition impacted the health of a man he saw as a father figure. From this experience, he was inspired to help others.
He went to college and upon graduating, began his career in health care.
"Knowing I could lend a hand to provide that help and bridge the gap between providers and patients, that's where I tried to fit myself in, to  be able to help out in any way necessary," shares Humphrey.
For the last three and a half years, Humphrey has been a phlebotomist at Aurora Health Center in Sheboygan. In his role he works with patients to perform blood draws, completes sample drop-offs and pick-ups, and strives to ensure patients are comfortable.
"A lot of times patients don't like to come in and get blood drawn, so I want them to know they can feel comfortable in my care," Humphrey says.
To Humphrey, Black History Month is an important time to reflect on the history, achievements and aspirations of those who have come before him, which gives him hope of being able to reach the same goals in whatever he sets his mind to.
"It's so important to understand where the African American community has come from and the struggles our ancestors have endured throughout history," says Humphrey. "People often rely on stereotypes but it's important to be compassionate in understanding the struggles and the extra miles the person next to you had to go through to get where they are."
Humphrey applies this compassion and understanding as he cares for patients.
"Being able to be on the same playing field as the next person and having the same equality as the next person means a great deal. Be compassionate when it comes to the struggles that were laid out for our ancestors and the struggles that we still have to go through," he said.
Humphrey strives to continue building upon the legacy people in history have worked for and sets goals to achieve this for future generations.
As a team member in Sheboygan, Humphrey is looking forward to the opportunities that the new Aurora Medical Center – Sheboygan County will bring to team members, patients and the community when the site opens in 2022.
"It'll be an opportunity to branch out and means a great deal to the community to have a facility where there are great employees and great services," says Humphrey.
In addition to the new Aurora Sheboygan County opening this year, which will be home to the clinic and hospital on the same campus, the clinic is also celebrating its 100-year anniversary in 2022. Humphrey feels honored to be a part of this journey that's been a century in the making.
"The community is trusting and putting their lives into our hands when it comes to the services we are providing," he said.
Related Posts
Comments
About the Author
Hannah Koerner is a Public Affairs Specialist with Advocate Health Care and Aurora Health Care. She received her Bachelor of Arts in Communication from the University of Wisconsin – Green Bay. In her free time, she enjoys biking, snowshoeing, and cheering on Wisconsin sports teams.