"Treat people for who they are and not for the color of their skin."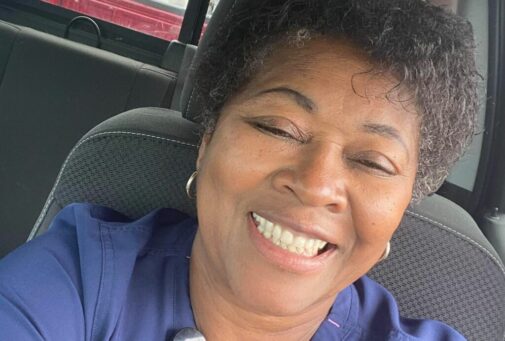 Spending her first 18 years at Aurora Sheboygan Memorial Medical Center and now working at Aurora Health Center in Sheboygan, Gina Gotiear-Meyer is celebrating 23 years of service with Advocate Aurora Health as a phlebotomist.
She started her health care career as a certified medical assistant. Then she became a lab assistant before becoming a phlebotomist. She was the first Black team member hired at Aurora Sheboygan Memorial – although the hiring experience did not begin smoothly.
Throughout the hiring process she was told she was qualified for the position but she was wrongfully rejected, sparking corrective actions to restore her candidacy. She was finally offered the job based on her level of experience.
"To this day, I am so grateful for those who have given me the opportunity to work for this organization," she says. "I love this organization and have found my job rewarding."
For Gotiear-Meyer, interacting with patients is something she looks forward to each day and loves working with many of the same doctors over the years. She feels the confidence her colleagues have in her to do great work.
Gotiear-Meyer didn't used to see as many people of color around the clinic and community and appreciates there are now more opportunities. She smiles when Black History Month is brought up and is happy it's recognized. She recommends others read about Black history as that is also how she is learning herself since it wasn't taught in school.
"There are so many things people are never going to know," she says. "I love the fact that it's come to light that people are interested in Black history and there's recognition for what people have done in this country. Treat people for who they are and not for the color of their skin."
She's had patients who haven't given her this same respect and feels supported that the team around her would stand up for her if she was treated wrongly.
As the Sheboygan clinic celebrates its 100-year anniversary this year, for Gotiear-Meyer it means the community recognizes the reputable care provided over the last century. She received care at the clinic in the 1970s when she was pregnant with her daughter and has seen the clinic grow over the years.
And it will continue to grow at the new Aurora Medical Center – Sheboygan County which is set to open in 2022. Complete with a clinic and hospital, Gotiear-Meyer feels the new facility will bring to Sheboygan what the community needs.
"While Aurora Sheboygan Memorial will always be home because that's where I started out, I'm so happy that Sheboygan is getting a new medical center."
Related Posts
Comments
About the Author
"Hannah Koerner is a Public Affairs Specialist with Advocate Aurora Health. She received her Bachelor of Arts in Communication from the University of Wisconsin – Green Bay. In her free time, she enjoys biking, snowshoeing, and cheering on Wisconsin sports teams."