Infectious disease physician advocates for Black community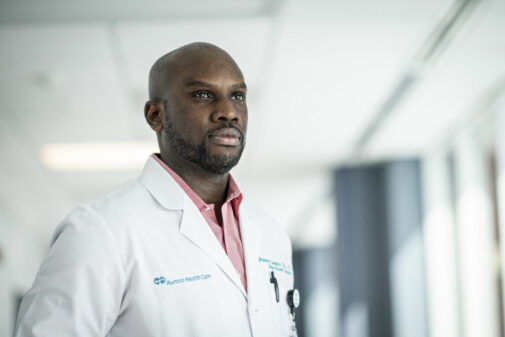 Dr. Brian Temple is constantly weaving in and out of the Intensive Care Unit at Aurora Medical Center- Oshkosh. As an infectious disease physician, he's often called on during COVID-19 surges.
He's proud to help fight the pandemic on the front lines, and he's passionate about helping the Black community understand the importance of getting protected against COVID-19. Vaccination within the Black community is low and Dr. Temple recognizes where hesitancy may stem. He hopes to debunk several misconceptions and mistruths.
"The vaccines were not intended to cause harm in people of color. We need to get vaccinated. We don't want to be in a situation where we're creating another health disparity," he said. "I hope they can understand that as someone who looks like them and deals with the same things they do – that I would not be participating in a situation that's detrimental to my community."
Common medical conditions like obesity, diabetes and hypertension are prevalent in the Black community, and Dr. Temple shared that he saw a high mortality in patients in their 40s with the Delta variant whose only risk factors were obesity or diabetes. Unless they are severely immunocompromised, most people who are vaccinated do not end up in the hospital after testing positive, Dr. Temple said.
Everyone should also prioritize yearly update visits from a primary care provider to ensure they are up-to-date on vaccines. It's important to have a person you can work with and trust, he said.
While Dr. Temple went into medicine to help people, being a Black physician has its share of struggles.
"It's hard at times when you look around, you don't see people that look like you – that's something I dealt with in college," he says. "And sometimes you get people who look at you funny and say, 'Does this person even know what they're talking about? But I say 'You earn your degree, you earn the letters on your diploma, you worked hard to be there – and no one can take that away from me.'"
Despite its difficulties, a career in medicine is also extremely rewarding, he said, recalling times when he walks into an examination room and a Black grandmother or older person lights up with pride when they see someone they weren't expecting, someone who looked like them.
"I do feel that there needs to be more representation, because then the generation growing up is able to see people that look like them and know they can aspire to be in health care," he said.
For those who want to go into health care, Dr. Temple encourages them to keep at it even when it gets hard and to find themselves a mentor.
Reflecting on Black History Month, Dr. Temple feels Black history is American history and it's important all Black workers are recognized.
"We need to celebrate all the things we do and take pride in that every day," he said.
Related Posts
Comments
About the Author
Cearron Bagenda, health enews contributor, is a Public Affairs Coordinator with Advocate Aurora Health. She previously worked as a TV news reporter and fill-in anchor covering medical, political, feature and breaking news stories at CBS 58 in Milwaukee, WBAY-TV ABC in Green Bay and NBC Nebraska- Scottsbluff. Cearron enjoys spending time outside with her three dogs, biking, traveling and interior decorating.