Opening doors for people of color in health care administration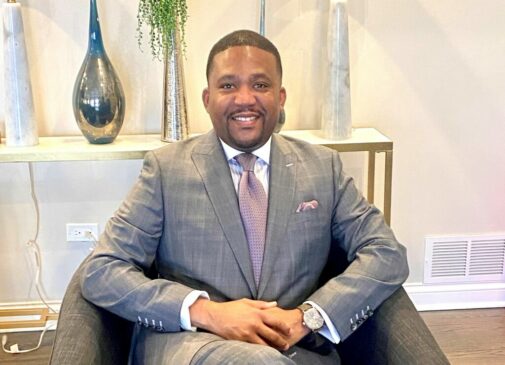 Early in his professional career in the late 1990s, Dia Nichols attended his first major conference in Chicago for health care executives from across the globe.
He was energized by the talent and expertise that filled the room. But as he looked around at his industry peers, he was struck by the realization that there were very few Black people among them.
A Black man recently out of graduate school, Nichols vowed to carry that experience with him as he advanced in his field. One day, he told himself, he would reach a point in his career where he could support and open doors for people of color in health care administration.
More than two decades later and now the president of Advocate Lutheran General Hospital and the system's Central Chicagoland Patient Service Area, Nichols is living up to his promise.
"A lack of diversity within the industry has been identified as an issue for years now," Nichols said. "I remember that feeling I had going into my first conference and I'm making a deliberate effort to do something about it."
Having a strong support system and a solid sounding board can go a long way, he said. As he took on various roles of increasing administrative responsibility through the years, Nichols has been intentional about building connections and offering guidance to other health care executives of color, many of whom are early in their careers.
Last year alone, he said, two of his mentees advanced to senior-level roles, and one was named a Fellow of the American College of Healthcare Executives, a designation Nichols also holds.
"It helps to know that someone you can lean on is just a phone call away," he said. "I value the part of my career that allows me to be a mentor within this field."
Advancing diversity, equity and inclusion initiatives has always been a priority for Nichols, who joined Advocate Aurora Health in September. As one of the system's top minority senior executives, some of his goals include attracting a diverse candidate pool for leadership roles, recruiting minority physicians and fostering an inclusive environment.
"There is increasing evidence that greater diversity among teams is associated with higher performance," Nichols said. "Very simply put, in the health care setting, that's better for our hospitals, our patients, our communities and our team members. How can you not be excited about that?"
Advocate Aurora in particular is confronting diversity, equity and inclusion "with seriousness and resolve," he said.
"I'm very pleased to be among team members and leaders all the way to the top of our organization who also prioritize and have accountability for these efforts," he said. "I recently read an article that pointed out how health care can't be considered excellent if it doesn't treat people with respect.  That point stuck with me, and I'm glad Advocate Aurora is making this a priority issue."
But a health system's impact extends far beyond the walls of a hospital or physician office, Nichols said. With health disparities being among the industry's most pressing challenges, he said "we all have a part to play in improving affordability, access and education within the community."
Nichols serves on various community advisory committees, as well as the Diversity, Equity and Inclusion Committee for the American Cancer Society of Illinois. This has allowed him to explore where local residents are obtaining health care resources and how they're making decisions that affect the well-being of their families and communities. The next steps, Nichols said, are better understanding where the disparities lie and setting tangible goals to tackle them.
"Making sure we embrace diversity, particularly in a field like health care that impacts so many, is something I've always held true to," Nichols said. "I'd like to think that even in subtle ways, in various communities I've served, that I'm making a difference."
Related Posts
Comments
About the Author
Lauren Rohr is a public affairs coordinator with Advocate Aurora Health. She studied journalism at the University of Illinois at Urbana-Champaign and spent the last several years working as a news reporter covering public health, local government, politics, education and all facets of life in the Chicago suburbs. In her free time, she enjoys reading, baking, staying active and cheering on her favorite sports teams, especially the Chicago Blackhawks and the Fighting Illini.