Do you know when an injury requires a visit to the emergency department?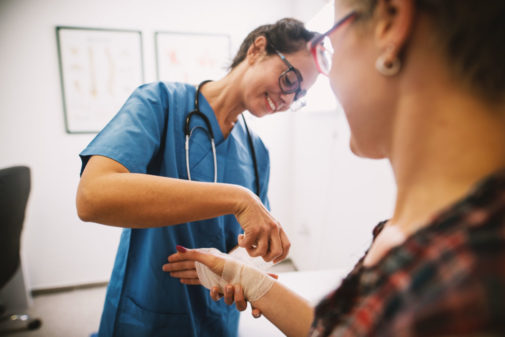 According to the Centers of Disease Control and Prevention, accidental injury accounts for the 3rd leading cause of death among Americans, the leading cause for death for those under the age of 35, and responsible for 29.4 million emergency department visits. Before you write off that upset stomach or aching arm as nothing that requires immediate attention, consider if that emergency department visit just might be necessary.
"Accidental injury can be anything from unintentional poisoning, vehicle accident injury, injury from a fall, and more," explains Dr. Ryan Murphy, emergency medicine medical director at Aurora BayCare Medical Center. "Ignoring these conditions could have costly side effects, and sometimes even deadly."
Just what do these types of accidental injuries look like? Dr. Murphy shares some details.
Unintentional poisoning
This can include giving someone a medication that was not intended to cause harm, but the person had an adverse reaction. Likewise, accidentally taking too much of a medication is also considered unintentional poisoning. Avoid unintentional poisoning by reading labels and following instructions carefully, and also keeping medications out of children's reach. If you or someone you know are having an allergic reaction to a medication, or have accidentally taken too much, seek professional help immediately.
Whiplash
While most cases of whiplash occur from vehicle accidents, you don't have to be in a car to experience it. Regardless of how you sustained this injury, ignoring whiplash can result in chronic headaches, neck pain, blurred vision, dizziness, fatigue and weakness.
Fractured bones
"Injuries like fractured bones are very treatable, but it's when these injuries have had time to heal incorrectly or not heal at all that long-term healing becomes more challenging," says Dr. Murphy. "In fact, sometimes fractured bones can actually lead to more injury than the injury that occurred in the first place."
Burns
We've all been there. We forgot the pan was hot, grease splattered onto bare skin, we sat in the sun for a little too long only to receive extreme sunburn, and so on. While incredibly painful, severe burns left unattended have the potential to become infected.
"In addition to infection, there's also the chance of your body temperature running too low and joint issues due to scar tissue buildup," Dr. Murphy says.
Drowning
Drowning is not always fatal, and when someone survives, medical treatment is often advised. Accidental drowning injuries can include impaired pulmonary function and central nervous system damage. If the survivor experiences blue lips and fingernails, excessive cough, difficulty breathing, foaming at the mouth, or acting unnatural, then a visit to the emergency department is essential.
Is it safe to visit the ED at this time?
"I get asked this question a lot," Dr. Murphy says. "The answer is, yes, it is absolutely safe for you to get the care you need, when you need it. We are taking extra precautions here at Aurora BayCare Medical Center, as well as all Advocate Aurora facilities, to make sure you are safe when you visit us."
You shouldn't let COVID-19 keep you from seeking the health care you need, especially in an emergency. Read how Advocate Aurora Health is taking additional steps to keep you safe with its Safe Care Promise.
Related Posts
Comments
About the Author
health enews staff is a group of experienced writers from our Advocate Health Care and Aurora Health Care sites, which also includes freelance or intern writers.