How to cope with news on the Russia-Ukraine crisis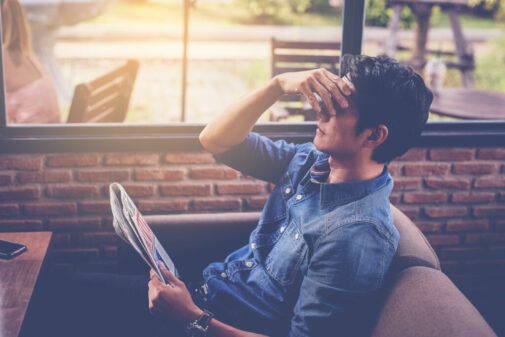 As the world watches the events of the Russian attack on Ukraine, collective feelings of sadness, stress and anxiety are settling in for many.
Tragic events can be difficult to manage, especially if they leave you feeling helpless to respond or help those in need.
"It turns out that we don't really have brand new grief and sadness over tragedies that happen in our world and in our lives. We all live with a well of grief to which every tragedy and loss we have experienced contributes. Whenever we feel grief from any new tragedy, we are also visiting all of the old grief from the past," says Rev. Kevin Massey, Advocate Aurora Health's Vice President of Mission and Spiritual Care.
And while it's upsetting to witness the attack unfold, it can also cause feelings of uncertainty and worry about what will happen moving forward.
"When faced with global events that impact safety and well-being of others, it is not uncommon to feel a sense of unease, distress, sadness or even anger," says Dr. Kim Miiller, director of Trauma Recovery & Resilience. "These responses are to be expected, and may be especially impactful to those with less personal distance from the event. It's possible to find yourself worrying about the safety of others or imagining a situation or event threatening your own stability, safety or well-being or that of family or loves ones. When we witness an attack on humanity, it can be a natural and empathic response to imagine ourselves in a similar position contributing to distress as well as desire to help."
Dr. Miiller says that although these emotional responses are normal, there are things you can do to help manage the distress associated with these global events that are largely outside of our personal control or impact.
"Finding ways to stay connected to activities and practices that help enhance well-being and take care of us are critical when faced with events that feel overwhelming or even impact our sense of justice and values," she says.
Dr. Miiller and Rev. Massey recommend seeking social support, giving yourself permission to limit media exposure and avoiding holding in your emotions.
"Talking with other people helps us acknowledge our feelings and validate them," says Dr. Miiller. "Seeking supportive interactions can also help alleviate feelings of distress during uncertain or overwhelming times."
"Even though everyone's experience is unique to themselves, when we share our own experience with others, we learn that there are also similarities in how we all manifest grief, stress and fear. That helps us feel less alone," says Rev. Massey.
Related Posts
Comments
About the Author
Holly Brenza, health enews contributor, is a public affairs coordinator on the content team at Advocate Health Care and Aurora Health Care. She is a graduate of the University of Illinois at Chicago. In her free time, Holly enjoys reading, watching the White Sox and Blackhawks, playing with her dog, Bear and running her cats' Instagram account, @strangefurthings.