How to make the most of your walking routine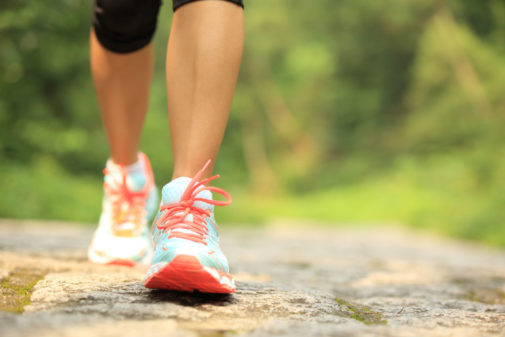 Warm weather may finally be here to stay, and with it, regular strolls outdoors. But while your daily walk might be a nice way to enjoy some sunshine, you might be wondering if it's helping you be healthier.
A healthy walking routine can help keep your weight under control and has numerous other health benefits — including for your mental health.
"Walking has been shown to help treat and even prevent clinical depression," said Bridget Bolsterstein, advanced practice nurse practitioner at Aurora St. Luke's South Shore Medical Center. "Keeping up a walking routine for six to twelve weeks can also help reduce anxiety."
In order to see an impact from your walking routine, two things are particularly important — your pace and how far you're walking are big parts of whether your saunter will show off in weight loss and other health benefits.
"If you're a beginner, start with a 15-minute walk and try to work your way up to a 45-minute walk," said Bob Reinke, certified athletic trainer at Aurora Sports Health in Brookfield. "A leisurely walk doesn't do much for you. Increasing your speed, increasing your mileage and throwing in some interval work can help. Interval training is alternating between different rates of speed or degrees of effort during the same workout."
Variety is your friend, said Reinke. Adding in hand weights or walking poles can help increase the amount of calories that you're burning on your walk. Hiking through hills, walking on the beach or finding other ways to vary the terrain you're tackling are other good ways to make your walk even more impactful. In general, falling into the same routine and the same leisurely route won't do you nearly as much good.
"Doing a couple walks a day can help keep your engine stoked throughout the day so you continue to burn calories," said Reinke. "Some people end up sitting all day and that keeps your metabolism down."
If it's a rainy day and you're looking to use a treadmill, set the incline at a two percent grade to mimic being outside. Because the motor of the treadmill is doing some of the work for you, a walk on the moving track doesn't burn as many calories or get your heart rate up as much as walking outside.
"Challenge yourself," said Reinke. "The 10,000-step goal that many fitness trackers use is a great thing to aim for, but any way you can be more active is a step in the right direction. If you're serious about getting your health benefits out of your walking, start slow, build up and see how far you can get."
When you do start getting more active, it's important to pay attention to your footwear. Make sure your shoes fit snugly and keep your heel in place. If your foot moves around in the shoe or if the shoe isn't very supportive, it's common to experience calf, arch and ankle pain. A common running or walking shoe with good support can help avoid these issues.
Are you experiencing pain or soreness? Click here for a free injury evaluation in Wisconsin. Schedule an appointment here in Illinois.
Related Posts
Comments
About the Author
Ben Hoekstra is a public affairs coordinator with Advocate Aurora Health. He previously worked in marketing and PR for various Milwaukee nonprofits and received his master's degree in Corporate Communications from Marquette University. He enjoys the outdoors, cooking, and all things Milwaukee.