What is aphasia?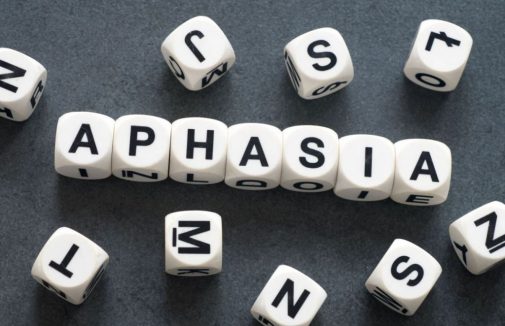 Imagine trying to speak, but what comes out of your mouth is jumbled and doesn't make sense. Or trying to comprehend what someone is communicating to you, but you can't understand what they're trying to say.
The condition is known as aphasia and can occur after someone has suffered from an injury or illness that affects the brain, like a stroke. This may seem rare, but about 2 million people in the U.S. experience it, according to the National Aphasia Association.
People with aphasia have trouble understanding what people are saying and difficulty retrieving words to form phrases and sentences, decode written words and spelling.
"We most commonly see individuals with aphasia who had a stroke, traumatic brain injury, brain tumors, brain surgery or have a progressive neurological disease like dementia," says Kimberly Funk, a speech and language pathologist at Advocate Christ Medical Center in Oak Lawn, Ill. "It's important to know that aphasia does not affect someone's intelligence but rather impedes their ability to communicate with others."
"Aphasia can be isolating for those who have it, but there are options to treat it and improve their quality of life," says Christine Murphy, a speech and language pathologist at Advocate Christ Medical Center. "They can receive aphasia therapy that can be either restorative or compensatory in nature."
Aphasia therapy can be done individually or in a group setting. Family involvement is an important component of aphasia therapy in order to learn how to best communicate with that individual.
Kimberly and Christine recommend these tips for communicating effectively with people who have aphasia:
Make sure you have the person's attention and establish eye contact.
Use simple words and shorter sentences, but avoid "talking down" to the individual. Talk slowly and stress important words.
Ask simple "yes" or "no" questions if the person has difficulty understanding or to confirm their communication attempts.
Be patient. Give the person time to speak. It may take them longer. Try not to finish their sentences for them unless they ask for help.
Use other methods to communicate: gestures, point to objects or pictures, draw a picture, try and write, facial expressions and body language.
Engage in normal activities. Don't shield people with aphasia or ignore them. Try to involve them in everyday conversation and activities to encourage participation and independence.
Use electronic and assistive technology to replace or aid in speech production.
If the individual with aphasia becomes increasingly frustrated and is unsuccessful with getting out their words, it is okay to take a break and try and go back to their thought again later.
Want to learn more about your risk for stroke? Take a free online quiz here. 
Related Posts
Comments
About the Author
health enews staff is a group of experienced writers from our Advocate Health Care and Aurora Health Care sites, which also includes freelance or intern writers.