New lung cancer treatment uses innovative dye placement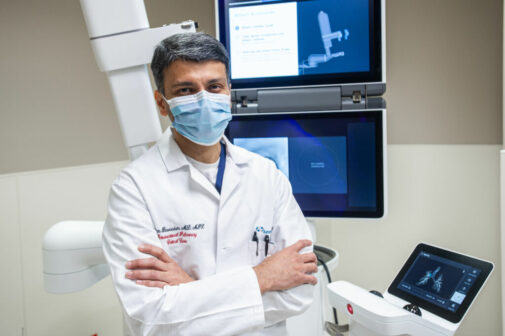 In recent years, advances in bronchoscopy are enabling doctors to detect lung cancer earlier, reducing the likelihood of mortality by up to 20 percent. Yet, the small cancerous nodules detected during these advanced imaging procedures can still be difficult to find and remove at time of surgery.
Now there is an exciting technique to address this problem and add efficiency between diagnosis and surgery, according to Dr. Hasnain Bawaadam, medical director, pulmonary services and critical care medicine and co-director of interventional pulmonary services at Aurora Medical Center – Kenosha. Dr. Bawaadam recently innovated a method to help surgeons find the smallest nodules by marking them with a fiducial coil prepped with Indocyanine green dye. The fiducial coil is placed at the time of biopsy using the robotic bronchoscopy system. The dye marks the location of the lung nodule making it visible at the time of surgery. The surgeon can target the cancer tissue with greater precision, sparing the healthy lung tissue around it.
What makes this especially ground-breaking is that the fiducial coil may be placed several days prior to surgery. In a recent case at Aurora Kenosha, Dr. Bawaadam placed the coil in a biopsy-proven cancerous lung nodule of a patient preparing for surgery five days later at Aurora St. Luke's Medical Center in Milwaukee. Since the coil was carrying the dye, the fluorescent and bright-neon green was still visible even after five days. Its bright green luminescence helped the thoracic surgeon know exactly where to resect, minimizing the amount of lung tissue removed and resulting in a better outcome for the patient.
"The extended time this procedure allows is a game-changer for patients at smaller, rural peripheral hospitals with limited availability of on-site thoracic surgery," explains Dr. Bawaadam. "These patients may need time to schedule, prepare and travel to larger medical centers for surgery. The fiducial marking means they will arrive at these centers for a surgery that will have appropriate localization and visualization to aid resection."
Ultimately, that benefits the patient with a more efficient, faster and precise surgical method that preserves healthy tissue. "Our patient is recovering amazingly well after her wedge resection surgery and is grateful for the innovative procedure that helped minimize the impact to her healthy lung tissue," says Dr. Bawaadam. "We'll continue to work to perfect this procedure which will improve the trajectory of successful early-stage lung cancer diagnosis and management from here on and help millions around the globe."
Due to the novelty and success of this case, Dr. Bawaadam has been invited to speak at the Thoracic Oncology Pulmonology (TOP) Conference in July 2022 at New York to present the case. "I'm excited to share this innovation with the broader pulmonary and surgical communities," he says.
Want to learn more about your risk for lung cancer? Take a free online quiz to learn more.
Related Posts
Comments
About the Author
Annette Guye-Kordus is a public affairs coordinator with Advocate Aurora Health.