3 signs it's time to see a doctor for carpal tunnel syndrome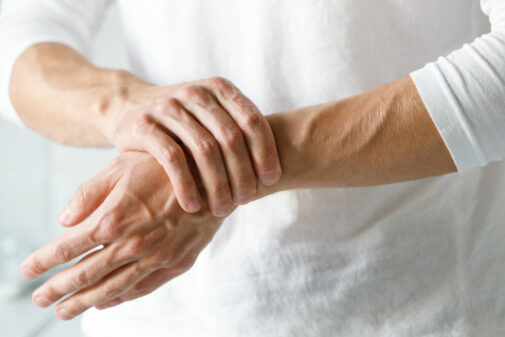 What is carpal tunnel syndrome?
Numbness, tingling and pain in the hand, an electric shock-like feeling that affects the thumb, index and long finger, and pain that travels up the arm toward the shoulder are all symptoms of carpal tunnel syndrome, according to the American Academy of Orthopedic Surgeons.
Carpal tunnel syndrome affects the wrist and hand, usually on the thumb side. It occurs when too much pressure is put on the median nerve which runs through the wrist (carpal tunnel) to the hand and gives the finger muscles movement and feeling.
Signs and symptoms:
There is no single cause, but overuse of the hand and wrist, pregnancy, older age and some medical conditions including diabetes, thyroid disease or rheumatoid arthritis, can play a role, doctors say.
"Symptoms often begin gradually and without a specific injury to the wrist or hand," says Dr. Anton Fakhouri, a fellowship-trained hand, wrist and elbow orthopedic surgeon with the Bone & Joint Institute at Advocate Christ Medical Center in Oak Lawn, Ill. "If you sleep with your wrist curled, the pain may wake you up at night. You may find yourself shaking your hand to relieve your symptoms. During the day, you may have trouble holding your phone or buttoning your shirt."
With time, Dr. Fakouri says, hand weakness can develop and you might find yourself dropping objects.
Treatment options:
Dr. Fakhouri says the symptoms will initially come and go, but when they become persistent, a person should seek medical advice.
"You want to diagnose and treat this early with medical management to avoid surgery, if possible," he says.
Sometimes surgery, called carpal tunnel release, is the best option and can help prevent permanent damage.
Dr. Fakhouri recommends seeing a surgeon if:
Your symptoms have not improved over several weeks to months of non-surgical treatment.
You have lost your hand, thumb or finger function, which indicates your median nerve is compromised and you are at risk for median nerve damage.
The symptoms are so severe they restrict your normal activities.
Most of the time carpal tunnel surgery can be done on an outpatient basis under local anesthesia.
"The surgeon will make a small incision on the palm side of your hand to cut the traverse carpal ligament," says Dr. Fakhouri. "This will release the pressure on the median nerve to relieve the symptoms of carpal tunnel syndrome."
Recovery is gradual and depends on the severity of the case. Complete recovery may take a few weeks, a few months, or in some instances, up to a year. Patients may need to work with a hand therapist to aid in recovery.
"The good news is that the majority of patients can use their hand for light activities on the same day after surgery," says Dr. Fakhouri.  "In most cases, patients will not need additional surgery in the future."
Are you trying to find a doctor? Look here if you live in Illinois. Look here if you live in Wisconsin. 
Related Posts
Comments
About the Author
health enews staff is a group of experienced writers from our Advocate Health Care and Aurora Health Care sites, which also includes freelance or intern writers.