Here's what you need to know about monkeypox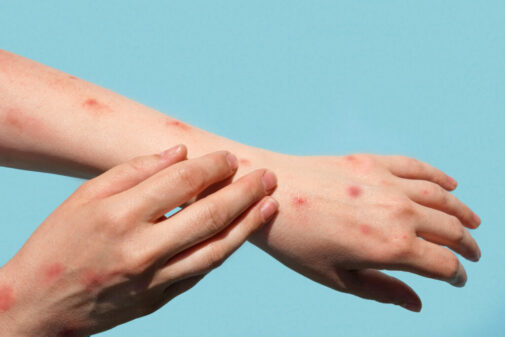 The number of confirmed monkeypox cases has grown rapidly in recent weeks, with more than 23,000 cases across 80 countries, according to the U.S. Centers for Disease Control & Prevention. More than 5,800 of those cases have been identified in the U.S., which is among countries that have not historically reported the virus.
With roughly 520 confirmed cases, Illinois is among states that have declared monkeypox a public health emergency.
Here's what you need to know:
Monkeypox is primarily transmitted through skin-to-skin contact with an infected person, prolonged contact with respiratory droplets and, occasionally, from contact with contaminated items like bed linens, Dr. Robert Citronberg, Advocate Aurora Health's executive medical director of infectious disease and prevention, told ABC 7 Chicago.
It causes a range of uncomfortable symptoms, such as lesions on the skin, fever and swollen lymph nodes.
Cases "seem to be concentrated in the population of men who have sex with men, but the virus doesn't care about sexual orientation," Dr. Citronberg said. "Anybody can get it."
The World Health Organization has declared the global monkeypox outbreak a "public health emergency of international concern." And WHO Director General Tedros Adhanom Ghebreyesus recently said that men who have sex with men should consider limiting their number of sexual partners to reduce the risk of exposure.
The #monkeypox outbreak can be stopped if countries, communities and individuals inform themselves, take the risks seriously, and take the steps needed to stop transmission and protect vulnerable groups.pic.twitter.com/7CumPFyPhc

— Tedros Adhanom Ghebreyesus (@DrTedros) July 27, 2022
While there is a limited amount of vaccine available right now, supply is expected to increase.
"We are targeting those at highest risk," Dr. Citronberg said. That includes "patients who are gay and bisexual men, as well as anybody who has had direct contact (with the virus). If you've been exposed, within four days you're a candidate for the vaccine. … For people without risk factors, there's really no reason to get vaccinated at this point."
If you've been exposed to monkeypox, contact your doctor.  In search for a new doctor? Look here if you live in Illinois. Look here if you live in Wisconsin. 
Related Posts
Comments
About the Author
Stephanie Goldberg is a public affairs manager with Advocate Health Care and Aurora Health Care. She previously worked as a reporter covering health care for Crain's Chicago Business. She enjoys hiking, baking and long walks on Chicago's Lakefront Trail.