What's the difference between yoga and Pilates?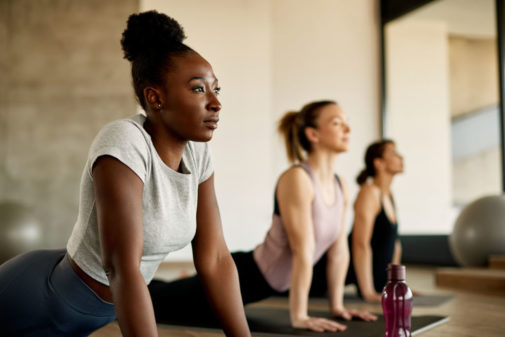 With so many options to get active, you may be wondering what the best option is for you.
Two options to consider are yoga and Pilates. In yoga, a person focuses on their breath as they move into different postures. With Pilates, there are low-impact exercises designed to focus on building strength, especially in the core area.
"Pilates and yoga are very similar. However, Pilates focuses more on the midsection of the body and yoga focuses on the full body," says Lisa Hale, group exercise and personal training coordinator at Aurora Wellness Center in Burlington.
Hale said yoga is a mind and body practice. Not only is it about increasing flexibility, increasing strength and helping with balance, but it is also about accepting where you are in the moment, she says. Yoga may also help with anxiety, depression, and to help relieve stress.
"So many people think yoga is about finding and being in the perfect pose, but that's not what it's about. It's about finding the pose that's perfect for your body, where you are, meeting your body where your body's ready. So many times people say they are not flexible enough to do yoga, but I always say there isn't one perfect pose, there's the person's perfect pose," says Hale.
Yoga is usually done on a mat. Pilates can also be done on a mat but is sometimes performed on a machine called a reformer.
"In Pilates you do use the full body, however the focus is on the core," says Hale, "Pilates helps with balance because you are strengthening the core."
Hale said in both yoga and Pilates, there is a focus on body awareness and moving with the breath.
"Where you are more aware of what your body needs and what your body shouldn't be doing. You are more in tune with your body," she says.
Both Pilates and yoga are "excellent" options for moving your body, Hale says.
Are you trying to find a doctor? Look here if you live in Illinois. Look here if you live in Wisconsin.
Related Posts
Comments
About the Author
Brittany Lewis is a media relations coordinator at Advocate Health Care and Aurora Health Care. She previously worked as a reporter at TV stations around the Midwest, including Milwaukee. She studied at DePaul University where she majored in Journalism and Public Relations. Brittany enjoys traveling, hanging out by Lake Michigan, trying new restaurants and spending time with friends and family.