Who are Advanced Practice Clinicians?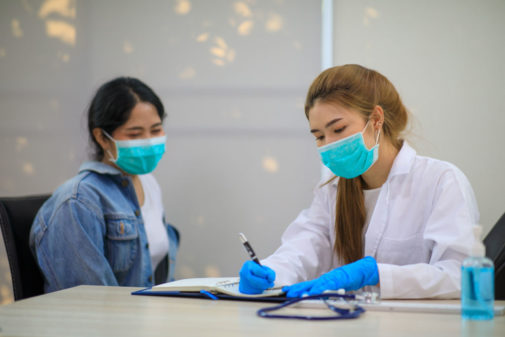 Advanced practice clinicians, or APCs for short, bring unique clinical expertise and experience to the health care team. Among the fastest growing professions in health care, you'll find APCs in clinics, the operating room, patient homes, via video visits – and everywhere in between.
With a commitment and passion for always putting patients first, APCs work closely with physicians, nurses and other clinical colleagues to deliver safe, high-quality care today while leading the transformation to better health care value tomorrow.
Types of APCs
Advanced practice clinician is an umbrella term that refers to advanced practice registered nurses (APRN) and physician assistants (PA-C). APCs have post-graduate education and extensive experience in the medical field and specialty of their choosing. APCs practice in a variety of settings including hospitals, clinics, skilled nursing facilities, retail health and more.
Advanced practice registered nurses (APRN): APRNs* are registered nurses educated at the masters or doctoral level and in a specific role and patient population. There are four advanced roles: Nurse Practitioners (NP), Certified Registered Nurse Anesthetists (CRNA), Certified Nurse Midwives (CNM), and Clinical Nurse Specialists (CNS).
Nurse practitioners (NP)*: Provide primary or specialty health care to patients of all ages in clinic, hospital or home settings.
Certified Registered Nurse Anesthetists (CRNA): Provide anesthesia and related care before and after surgical, therapeutic and diagnostic procedures in clinic, surgery centers or hospital settings.
Certified Nurse Midwives (CNM): Provide primary care for women's reproductive health, including gynecology and both pre- and post-natal care and education as well as attend women during childbirth.
Clinical Nurse Specialists (CNS): Provide clinical expertise, education and research in their chosen specialty area to support their clinical colleagues and patients and may also provide direct clinical services.
Physician assistants (PA-C): PAs are medical professionals most often educated at the masters or doctoral level to assess, diagnose, and manage patient problems, order tests, and prescribe medications.  PAs are trained as generalists and practice in a wide variety of settings, specialties and primary care.
"As healthcare continues to evolve, there are focused efforts to provide quality medical care for the people in our communities. APCs hold critical roles in addressing the demand of medical management among all ages by working with physicians as a team," says Mansi Patel, nurse practitioner at Advocate Medical Group in Downers Grove, Ill. "Our team approach helps to create additional access for our patients and provide high-quality care when and where needed."
The expanding role of APCs
APCs conduct physical exams, order and interpret tests, diagnose illness, develop treatment plans, prescribe medications, perform procedures, assist in surgery, conduct clinical research, provide patient education, coordinate care and more, collaborating with physician colleagues when needed. Operating at the top of their license, many APCs care for their own patients as their primary provider and write prescriptions which may include controlled substances.
As health systems aim to create better health care value by offering the right level of care, by the right provider, at the right time, in the right setting, APCs help improve access to primary and specialty care – both in person and virtually – as critical members of the care team.
*In Illinois, the APN license is APRN (advanced practice registered nurse) and the NP license is CNP (certified nurse practitioner).
Related Posts
Comments
About the Author
Tonya Lucchetti-Hudson, health enews contributor, is public affairs director for Advocate Medical Group and Advocate Physician Partners.