'If I did this by myself, I couldn't go as far'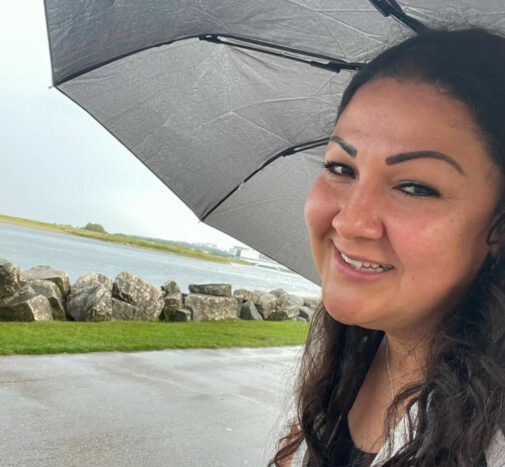 Guadalupe Osorio was a patient at Aurora Walker's Point Community Clinic for years. She often spent time volunteering at community events and helping others in her community find resources. She enjoyed having a positive impact on those around her and making sure others had what they needed.
When the team at Aurora Walker's Point Community Clinic offered Osorio a job as a community health worker, she was thrilled. She was in charge of a partnership with the Mexican consulate where she spent her time connecting people with resources and helping people check their glucose and blood pressure levels. Osorio also connected patients with colorectal cancer screenings, arranging for kits to be dropped off and picked up from their homes.
"This is the best thing that ever happened to me. If I did this by myself, I couldn't go as far," says Osorio. "I feel like I'm working for the community. Before this, I was working by myself. If I could help one person by myself, with the team at Aurora Walker's Point Community Clinic, we can help thousands."
Osorio works with the behavioral health team at Aurora Walker's Point to connect with Hispanic women who were in classes with the psychologist there. The two brainstormed how they could do more to help those women in addition to the once-a-week class. They decided to start inviting groups of women to walk together, which allows them to build relationships and be more active.
The health benefits were obvious, but the program has grown. The group of women walk together each week and participate in community walks at events like Mexican Fiesta. Completing the walks at their own pace gives women in the program a sense of accomplishment, especially for those who don't speak English and were nervous to participate at first. The Urban Ecology Center, a local nonprofit, donated a garden plot to the women, who now stop to tend their vegetables and flowers on their walks.
Born in Mexico before she moved to the United States at 12 years old, one of the most important traditions to Osorio is Dia de Los Muertos.
"Many people think Dia de Los Muertos is Halloween, but it's so much more," says Osorio. "It's a special moment to remember and speak with your loved ones. It's a special day for me after losing my brother seven years ago. This is my chance to celebrate my brother's life and say goodbye."
Osorio is helping coordinate a special celebration for her community on Dia de Los Muertos this year, as well as Noche de Altares. Hispanic Heritage Month is a chance to honor her culture and show others about the things that matter to her.
"It's important that the community can feel a little part of their culture here," says Osorio. "I want to help as much as I can so that people feel more at home. I'm grateful that we take the time to make our culture more visible and have some recognition for what we do for our community."
Are you trying to find a doctor? Look here if you live in Illinois. Look here if you live in Wisconsin. 
Related Posts
Comments
About the Author
Ben Hoekstra is a public affairs coordinator with Advocate Aurora Health. He previously worked in marketing and PR for various Milwaukee nonprofits and received his master's degree in Corporate Communications from Marquette University. He enjoys the outdoors, cooking, and all things Milwaukee.