5 tips to keep your feet happy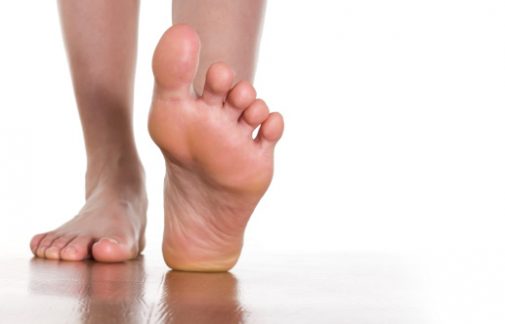 When your feet hurt or ache, it's difficult to ignore. They literally carry the weight of your body with each step for thousands of steps daily.
And when pain ensues, it can affect not only your feet and the way you walk, but can lead to additional issues like knee, hip and even back pain. Being proactive can help you stop problems before they even start.
Dr. Kellen Cohn, a podiatrist affiliated with Advocate Lutheran General Hospital in Park Ridge, Ill., offers these tips to keep your feet healthy and happy.
Get the right insoles. Insoles in your shoes are a common fix for many foot problems. Proper arch support can alleviate everyday pain. But not all insoles are created equally, and not all feet are the same. "It's always best to see a specialist to get the right insole prescribed for your needs," says Dr. Cohn. "If you are looking on your own, a couple pointers will help you find the best fit for your feet. Expect to pay between $30-60 for decent over-the-counter arch support. Anything less will likely be nothing more than a cushioned lining. Look for something that has some strength to it. You shouldn't be able to push the arch of the insole flat into the ground with one finger, as that isn't going to support much of your weight. A deep heel cup will also help keep your foot in a good position, so look for something that cups your heel about 1 centimeter up the back and on the sides."
Shop for shoes in the afternoon. Did you know it matters what time of day you shop for your latest pair of footwear? Your feet swell as the day goes on, so they are bigger in the evening than in the morning. "I always recommend my patients shop for shoes in the afternoon because of the changes in size throughout the day. This ensures you get the right fit for your foot. Improperly sized footwear can lead to a lot of problems in the future," says Dr. Cohn.
Stiff sole, stiff heel. "Look for a shoe with a stiff sole and stiff back to the heel," says Dr. Cohn. "The 'stiffness' factor will protect your feet, especially if you have arthritis. A custom fit orthotic made by your podiatrist can also enhance comfort even further."
Get the right lotion. Especially in the winter months, you might notice that your skin is dry, scaling or even cracking, causing your feet considerable pain. When you have callused or cracked skin, no matter how much you moisturize, the dead skin will not come back to life. Instead, your feet will benefit from the proper exfoliant. "Lotions with active ingredients such as urea, allantoin, bromelain, lactic acid or glycolic acid help dead skin 'slough off'," says Dr. Cohn. "This in turn promotes skin turnover and allows fresh skin to shine through. It also combats the painful cracking, which can make even the simple task of walking extremely uncomfortable."
Night splints and compression socks. For people with heel pain, shin splints or other issues, night splints are simple devices that help give a mild, prolonged stretch to the calf muscles. This stretching of the muscles has many benefits and can help people dealing with plantar fasciitis and tendonitis in addition to the above-mentioned issues. They are especially helpful for people suffering heel pain in the morning. "Compression socks can be found over the counter and can also do wonders for people dealing with swollen feet or legs," says Dr. Cohn. "Anyone who stands all day can benefit from a moderate strength compression sock. In addition, these socks can help your feet feel less fatigued, can help with circulation and prevent varicose veins. My advice is to start light when first evaluating what sock is right for you."
Do you have hip or knee pain? Take a free online quiz to learn more. 
Related Posts
Comments
About the Author
health enews staff is a group of experienced writers from our Advocate Health Care and Aurora Health Care sites, which also includes freelance or intern writers.