Is diabetes hereditary?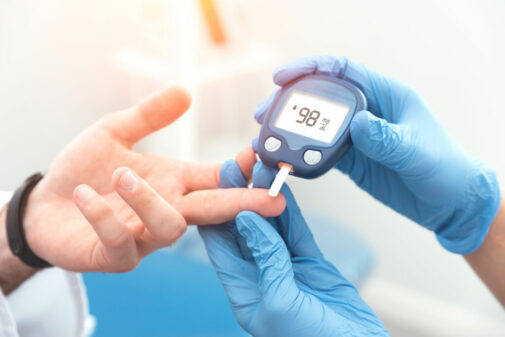 If you or one of your family members has diabetes, you may have wondered if it's something in your genes. Is diabetes genetically passed on from your parents and to your children? Is there anything you can do about it?
"This is a common question I get from patients as, like cancer, we tend to worry about our risk of disease once a family member is diagnosed," said Dr. Cameron Blegen, family medicine physician at Aurora Health Center in Port Washington, Wis. "While further research is ongoing, we know that we inherit a predisposition to the disease, but then something in the environment triggers it. While there isn't anything we can do about our genetics, we can work on risk factors within our control."
It's important to understand that there are two types of diabetes, type 1 and type 2. Type 1 diabetes is an autoimmune disease where your body's immune system destroys your body's ability to produce insulin by attacking the pancreas. This usually develops at a young age. If you have type 1 diabetes, you'll need supplemental insulin to help your body process and regulate blood sugar.
Type 2 diabetes, on the other hand, is a developed disease that lessens your body's ability to process sugar and is usually diagnosed later in life. Risk factors for type 2 diabetes include a lack of physical activity, unhealthy diet, smoking, excess alcohol consumption, obesity and short sleep duration.
"Along with reviewing the risk from your family history, you and your doctor should monitor your other risk factors for type 2 diabetes such as physical activity, diet and weight," said Dr. Blegen. "If you have risk factors or early evidence of diabetes like elevated blood sugar, your doctor can help you limit this risk through lifestyle changes and, if necessary, medication."
While finding out that a family member has been diagnosed with diabetes may be concerning, it's important to know that there are ways to reduce your risk of developing type 2 diabetes and to treat either type if you do have it. Talk to your doctor if you have concerns.
Want to learn more about your risk for diabetes? Take a free online quiz here. 
Related Posts
Comments
About the Author
Ben Hoekstra is a public affairs coordinator with Advocate Health Care and Aurora Health Care. He previously worked in marketing and PR for various Milwaukee nonprofits and received his master's degree in Corporate Communications from Marquette University. He enjoys the outdoors, cooking, and all things Milwaukee.