What is a hiatal hernia?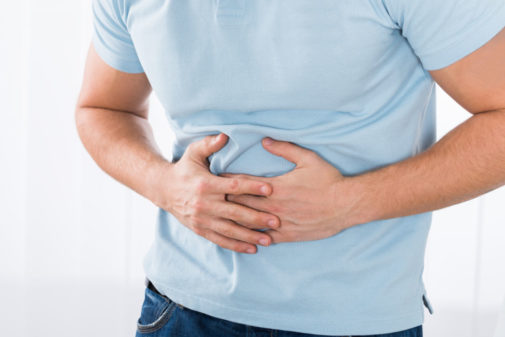 A hiatal hernia occurs when a portion of the stomach pushes up through the upper opening of the diaphragm, called the hiatus, and can lead to unpleasant symptoms like belching, chest pain or a lump in the throat. In this type of hernia, a portion of the stomach is actually found in the chest, says Dr. Allen Mikhail, bariatric surgeon at Advocate Good Samaritan Hospital in Downers Grove, Ill.
While a small hiatal hernia may not cause symptoms, larger hiatal hernias are one of the most common causes of symptoms related to gastroesophageal reflux disease (GERD), which includes belching, chest pain, feeling a lump in the throat due to refluxed food, air, bile and gastric acid.
These hernias can happen from increased pressure to the abdomen due to pregnancy, increased abdominal fat or excessive coughing, Mikhail says. Treatment typically starts with eating changes and acid-reducing medications. But if symptoms persist it may be a larger hernia that requires a visit to a gastroenterologist, who will diagnose using an endoscope procedure, he said.
"Although the symptoms of reflux or heartburn are often shrugged off as common occurrences after a good meal, they are not normal," Mikhail says. "Consistent acid exposure or irritation to the bottom portion of your esophagus can be serious and even lead to esophageal cancer."
If the patient has severe inflammation due to the hernia, or the symptoms persist despite a trial of prescription medications for several months, Mikhail said he recommends surgical repair.
Although traditional hiatal hernia repair was performed through a large incision on the chest or upper abdomen, there are now minimally invasive options, he said. "New more durable procedural options including endoscopic (through the mouth) and laparoscopic (small incisions) are now available and can minimize post-surgery pain and significantly shorten recovery time."
After consulting with their gastroenterologists, patients are now even choosing to avoid acid reducing medications long term and instead choosing these less invasive surgical procedures, Mikhail adds.
While patients should consult with a doctor about the best options to treat a hernia, Mikhail says these more modern techniques offer a good option for symptom relief for those in pain.
Are you trying to find a doctor? Look here if you live in Illinois. Look here if you live in Wisconsin.
Related Posts
Comments
About the Author
health enews staff is a group of experienced writers from our Advocate Aurora Health sites, which also includes freelance or intern writers.