Reoccurring neck pain? Don't wait.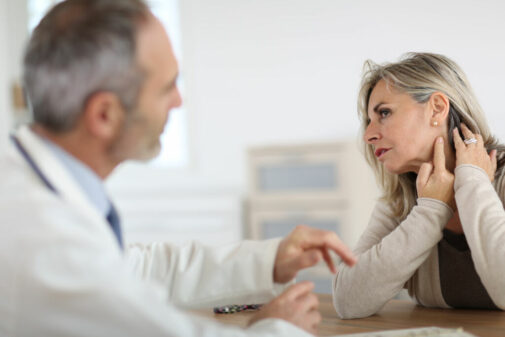 Beatriz Mendez was the first patient to have a cervical disc replacement procedure at the Aurora Spine Health Clinic when it opened its doors in January 2022. But it wasn't her first experience with having Dr. Shaun O'Leary, neurosurgeon at Aurora Health Center – Pleasant Prairie, as her doctor. Mendez was his patient at a previous practice closer to her home in Des Plaines, Ill. When she started experiencing recurring neck pain again last year, Mendez knew who to call. "I told my daughter, we need to see Dr. O'Leary right away," she says.
Approximately 1 in 3 people suffer from neck pain. The pain can be a result of an injury, strenuous activity, an underlying medical condition – even a sedentary lifestyle. There are a number of ways to treat back and neck pain, from massage therapy to surgery. Yet, a study determined that only 58% of people with lower back pain seek medical treatment.
"Untreated back pain can cause serious complications, including nerve irritation. Untreated vertebrae injuries can lead to spinal stenosis (narrowing of the spinal canal), radiculopathy (severe nerve pain) and permanent damage to nerves. That's why it's one problem you should never ignore," says Dr. O'Leary.
As a busy 70-year-old, Mendez has no intention of letting neck pain slow her down. Since she has dealt with back issues before, she knows not to wait. Mendez's surgery was followed by six weeks of rehab, and then she was back on her feet. She was back to doing activities she is passionate about such as cooking and even traveling to Mexico for her annual visit with family and friends. "I healed faster than expected, so it wasn't long before I was back doing all I love," she says. "It was a unique experience being the first patient at the new center. I'm so grateful for Dr. O'Leary and the care I received."
"Chronic back pain can affect people very differently. We get to know our patients' preferences, levels of ability and commitment to be actively involved in the treatment plan. That gives our patients options that are best for them," says Dr. O'Leary. "The important thing is that we're providing timely intervention before it can advance to a more serious condition."
If you are experiencing back or neck pain, contact the Aurora Spine Health Clinic at 262-857-5300.
Are you having back or neck problems? Take a free online quiz here to learn more. 
Related Posts
Comments
About the Author
Annette Guye-Kordus is a public affairs coordinator with Advocate Health Care and Aurora Health Care.