Cutting back on buying expensive eggs? Try these alternatives.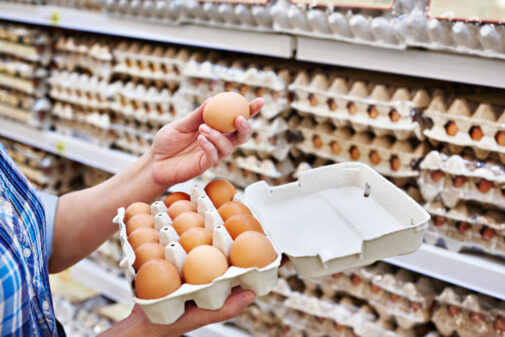 You're not alone if you've been experiencing sticker shock in the grocery store. One common item that's been concerning for a shopper's budget – a carton of eggs.
In the past year, egg prices have increased nearly 60%, according to the U.S. Bureau of Labor Statistics. The increase in price, along with inflation, is due to a decrease in supply. Since February 2022, nearly 58 million birds living in commercial and backyard flocks across the country have been infected with Highly Pathogenic Avian Influenza (HPAI). The HPAI virus is extremely infectious and often fatal to chickens.
Although eggs have become more expensive, there are many nutritional benefits that may be worth the money. Eggs are rich in protein, vitamins and minerals. Specifically, eggs are a good source of vitamin D which helps with bone health and the immune system. They also contain the nutrient choline, which helps with metabolism, liver function and fetal brain development.
If you're looking to reduce the number of eggs in your grocery cart each week there are some adjustments you can make in your diet. Pam Voelkers, a registered dietitian and integrative health coach at Aurora Health Care, has a few suggestions.
"Probably the least expensive option to replace some nutrients you get from eggs is by eating beans or lentils," says Voelkers. "If you're looking for a good breakfast option, try making a ground turkey or extra firm crumbled tofu and vegetable scramble. Consider adding onions, peppers, mushrooms, brussels sprouts, spinach or whatever you like that fits with your budget."
Voelkers also recommends eating a serving of plain Greek yogurt with berries and chopped nuts sprinkled on top. One small container of Greek yogurt contains about 17 grams of protein. For comparison, one large egg has about 6 grams of protein. Another option to increase protein in your breakfast is by replacing water with dairy or soy milk when making hot cereals like oatmeal and cream of wheat.
When it comes to replacing eggs in foods like pancakes, muffins or quick breads, it can be more difficult.
"From a food science standpoint, the type of egg replacement will depend on what the egg was being used for. In baked goods, eggs can provide moisture, act as a leavening agent or bind ingredients together," says Voelkers.
One common egg substitute, according to Voelkers, is flax seed. To replace one egg, simply mix one tablespoon of ground flax seed with two tablespoons of water. In a few minutes, the flax seeds will thicken into a gel that can be added to cookie, brownie or cake batters in place of eggs. Other egg substitutes include unsweetened applesauce to provide moisture, or aquafaba (the starchy liquid in canned beans) in place of whipped egg whites to provide fluffiness.
It's important to schedule an appointment to speak with your doctor or a dietitian before making any significant changes to your diet.
Are you trying to find a doctor? Look here if you live in Illinois. Look here if you live in Wisconsin.
Related Posts
Comments
About the Author
Danielle Mandella, health enews contributor, is a public affairs coordinator in Greater Milwaukee, Wis.