Is rest always best when recovering from a concussion?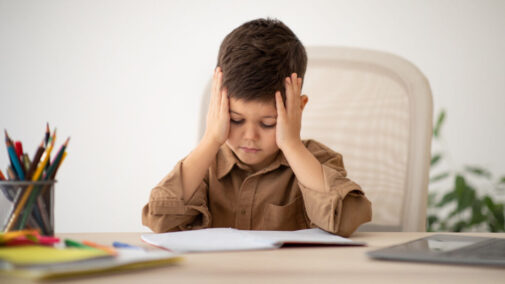 After suffering a concussion, should a child stay home from school? Not for long, according to recent research published in JAMA Network Open.
The study examined 1,630 concussion cases among children aged 5 to 18 and determined that an earlier return to school was associated with fewer concussion symptoms two weeks post injury.
"This result is certainly in line with other recent studies that have demonstrated the importance of a 'return to normalcy' as soon as possible after a mild traumatic brain injury (mTBI) or concussion," explains Dr. Brian van Meurs, a neuropsychologist at Advocate Children's Hospital. "Typically, a gradual return to school 24-48 hours after an mTBI or concussion is recommended. The child should start with a half day of school and heavy modifications, including cognitive rest breaks, especially if symptoms worsen from cognitive work. If symptoms don't recede to baseline after 20-30 minutes of rest, additional evaluation may be needed, and cognitive work should be stopped for the day."
Dr. van Meurs says one of the biggest concerns he hears from patients and parents is that cognitive work may exacerbate symptoms.
"While there is great evidence for the need for complete rest in the 24-48 hours after the mTBI, there is mixed evidence for rest afterwards. Recent research points toward a return to cognitive activities being helpful, particularly for social/emotional functioning. Just as a person may experience soreness and need to modify exercises when recovering from an orthopedic injury, there may be some discomfort with returning to cognitive work after an mTBI. But, the benefits generally outweigh the costs associated with social withdrawal, missed assignments and an overall break in routine that accompanies a delayed return to typical activities. This shouldn't be overdone, and it's important that the return be gradual, but having mild symptom exacerbation when returning to cognitive work should be expected," he explains.
He says it's important that parents have minimal academic expectations of their child in the early recovery period.
"Even if coursework isn't fully completed, it's important for a child to be in the academic environment. Ease them back into school – if they can tolerate a half day, try for a full day the following day and incorporate support and rest breaks. Those modifications can then be lifted gradually, and in short time, the student can be back at full capacity and hopefully in a better place than if they had waited longer to get back."
And while the findings are important, he emphasizes the need to consider the study's limitations.
"It may be just as likely that some students recover quickly and are able to return to school. These differences in recovery rather than return to school may be driving the results. Always seek individualized advice from your child's health care professional, but in general, returning to school as soon as possible is a good approach."
Are you trying to find a doctor? Look here if you live in Illinois. Look here if you live in Wisconsin. 
Related Posts
Comments
About the Author
Holly Brenza, health enews contributor, is the public affairs coordinator at Advocate Children's Hospital. She is a graduate of the University of Illinois at Chicago. In her free time, Holly enjoys reading, watching the White Sox and Blackhawks, playing with her dog, Bear and running her cats' Instagram account, @strangefurthings.