Thinking about breast reconstruction surgery? Here's what you need to know.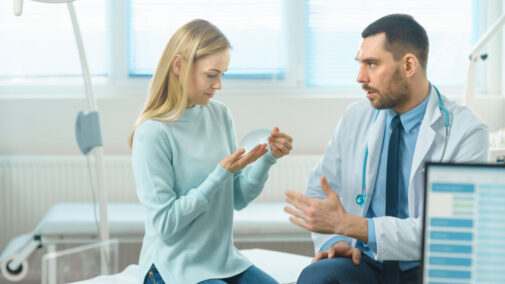 Plastic surgery isn't just for celebrities and models. For people who are considering a lumpectomy or mastectomy, breast reconstruction can be vital to restoring their self-image and identity during a tumultuous time.
"It's not simply a boob job, it's so much more complex than that," says Dr. Elaina Chen, a plastic and reconstructive surgeon at Advocate Condell Medical Center in Libertyville, Ill. "The reconstructive process is to restore not just the physical form of having breasts but to restore the mindset of being whole."
For many people, the appearance or presence of breasts is integral to their identity, so when they lose them, it can be a big deal, Dr. Chen explains. Her specialty is breast reconstruction, and she's seen the difference it can make in a person's breast cancer journey.
But the process isn't without risks. Breast cancer treatment can be a confusing process, and breast reconstruction can add another layer of complexity, which is why it's important for people who may be interested to connect with their provider as soon as they can, Dr. Chen says.
Breast reconstruction starts with a consultation. A plastic surgeon like Dr. Chen reviews a patient's individual health history, considers their breast cancer details and examines the patient's unique anatomy. She educates the patient on the different options for breast cancer reconstruction based on their characteristics, situation, preferences and overall health. Sometimes, people who do not have breast cancer but are genetically predisposed to it will opt to take preemptive measures, which can include mastectomy and breast reconstruction.
"We custom tailor our reconstructive plans for every patient," Dr. Chen says.
At a minimum, the patient must be in good health, which means no significant heart problems or lung problems, and good enough physical condition to climb two flights of stairs, Dr. Chen says. Patients have better outcomes when they are at a healthy body weight, and those with diabetes must have well controlled blood sugar. Candidates for breast reconstruction also cannot smoke or use nicotine, and Dr. Chen recommends people considering breast reconstruction to also have adequate social support to help with the recovery.
There are two main categories of breast reconstruction after mastectomy. One is implant-based reconstruction, which uses a saline (salt water) or silicone (gel) implant, and the other is autologous reconstruction, which uses the patient's own tissue. While implant-based reconstruction is a shorter surgery, it requires a surveillance schedule post-operation and likely additional maintenance procedures in the future. Autologous reconstruction requires a longer surgery, with the addition of a donor site to heal, but doesn't require additional surveillance or maintenance post-operation.
Patients who do not desire breast reconstruction may opt for an "aesthetic flat closure" with the assistance of a plastic surgeon. For lumpectomy candidates, there are techniques to rearrange, reduce, or augment the remaining breast tissue to prevent deformity after radiation, as well as improve the overall appearance and symmetry of the breasts.
Breast reconstruction is a marathon, not a sprint, Dr. Chen says. It can be a lengthy process with multiple procedures required to achieve the final result and is often customized and dovetailed into each patient's cancer treatments and other life events. The whole process can take about a year to complete.
"If you are interested in the benefits of a reconstructive procedure, please consult a board certified or board eligible plastic and reconstructive surgeon, who can educate you about your options and help you achieve your goals," Dr. Chen says. "Talk to your provider to see if breast reconstruction is right for you."
Want to learn more about your risk for breast cancer? Take a free online quiz here. 
Related Posts
Comments
About the Author