Are you guilty of skipping this appointment for your child?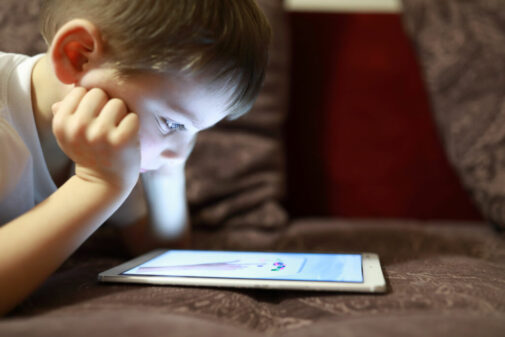 In our modern-day society, it's more common now than ever for children to grow up using technology like smartphones, televisions and tablets.
Many parents recognize the consequences associated with excessive screen time such as trouble sleeping, a lack of social skills and obesity. However, the damaging effects on kids' eye health are often underestimated.
A national poll on children's health revealed some insight on parents' understanding of this topic. The poll drew results from a sample of about 2,000 parents with children ranging from 3 to 18 years old. It found that less than half of them ranked screen time per day as the most common factor. Furthermore, it was found that from the parents sampled, one in seven parents admitted their child had not seen an eye doctor or gotten an eye exam in the past two years.
"Making eye exams part of your child's routine checkups can help ensure their eyes are developing in a healthy way," says Dr. Veena Gonuguntla, a pediatrician at Aurora Pediatrics in Hartland, Wis. "Eyesight in children develops rapidly and deserves regular screenings to ensure any necessary treatment is given in a timely manner."
It's important for parents to understand the various possible effects that screen time can have on their child's eye health, she explains. Children who endure too much screen time can develop myopia, also known as nearsightedness. They may also experience irritated and dry eyes, blurry vision, eye fatigue and digital eye strain.
The reality of our modern world is that screens and technology aren't going anywhere – and most people don't want them to, Dr. Gonuguntla explains. However, there are healthy habits parents can teach their kids to help minimize the effects of screen time on their eye health.
Monitor screen time: Taking breaks from screen time to participate in activities such as outdoor games and exercise can help children understand the difference between the real world and the technological world. It has been found that children who spend more time outdoors are less likely to develop nearsightedness. Even reading books outside, instead of inside, can help with this.
20/20/20: The American Optometric Association suggests practicing the 20/20/20 rule. This involves taking a 20-second break from the screen, every 20 minutes and focusing your eyes on something 20 feet away. Doing this allows your eyes to take a break from the screen and reduces the possibility of developing digital eye strain.
Size and distance: The smaller and closer a screen is to your child, the harder their eyes need to work to focus. Having them use larger screens like laptops or computers can help reduce the strain on their eyes. The 1-2-10 rule recommends holding phones a foot away, using laptops or computers 2 feet away and sitting 10 feet away from televisions.
Regular vision screenings: These can become part of your child's regular checkup routine. A child experiencing eye dryness or irritation, eye pain or headaches may not say anything. Eye exams can assess overall eye health and identify potential issues. If your child mentions any of those symptoms, they should be scheduled for an eye exam.
Are you trying to find a doctor? Look here if you live in Illinois. Look here if you live in Wisconsin. 
Related Posts
Comments
About the Author
health enews staff is a group of experienced writers from our Advocate Health Care and Aurora Health Care sites, which also includes freelance or intern writers.