Make tummy time a bonding experience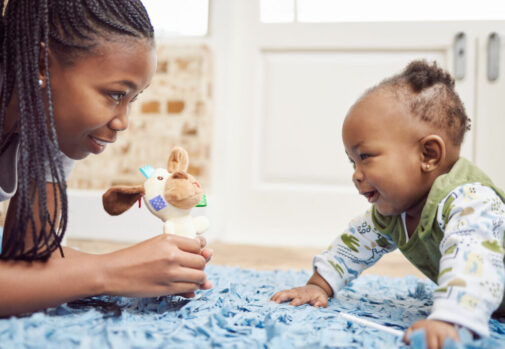 Tummy time is an essential part of a baby's growth and development and can be a bonding experience for you and your baby.
"Tummy time is when babies lay on their stomachs for brief periods of time while they are awake. It is aimed to help babies strengthen their neck, back and shoulder muscles thereby improving their motor skills," says Dr. Cristina Senger, a pediatrician at Aurora Sinai Family Care Center and Aurora Rivercenter Clinic in Milwaukee, Wis.
The best way to do tummy time is by placing your baby on a clean blanket on the ground or by placing your baby on your chest so you and baby are face-to-face. Dr. Senger recommends starting tummy time as soon as you bring your baby home from the hospital. During the newborn phase, practice tummy time with your baby for a few minutes at a time, two to three times a day. As your baby gets older, practice tummy time with your baby more often for longer periods of time, building up to a full hour.
Important tummy time tips:
Tummy time should always be supervised by an adult.
Your baby should always be awake during tummy time. If they fall asleep, be sure to place them onto their back. Always remember,  back to sleep, tummy to play.
It's very important to make sure you wait at least 30 minutes after your baby is done eating to start tummy time. This will help prevent your baby from spitting up their food.
Babies don't always enjoy tummy time at first. As time goes on, most babies begin to tolerate and enjoy building the muscles they need to lift their head. Alternating your baby on each side of the chest helps your baby practice moving their head from side to side. It can be fun for the baby if their siblings do tummy time with them to promote bonding.
"It is an interactive experience, and it should always be enjoyable for both the parent and the infant. Some of the ways to do this is to place toys with different textures or colors in front of them, sing songs, or have the parent lay down on their stomachs, too. This creates eye contact and promotes the bonding experience," said Dr. Senger.
In addition to having proven developmental benefits, tummy time can help prevent positional plagiocephaly (flat spots on the back of the head) and positional torticollis (tight neck muscles causing babies head to tilt to one side).
Around four months of age, babies start to roll from their stomach to their back, and tummy time helps in preparation for this. As they get older, they learn to reach for objects in front of them with their hands. Babies start crawling around 7-9 months of age, and when this developmental milestone is reached, they get the benefits of tummy time while moving, so it's not essential to continue doing tummy time.
Are you trying to find a doctor? Look here if you live in Illinois. Look here if you live in Wisconsin. 
Related Posts
Comments
About the Author
health enews staff is a group of experienced writers from our Advocate Health Care and Aurora Health Care sites, which also includes freelance or intern writers.