Is your diet lacking this nutrient?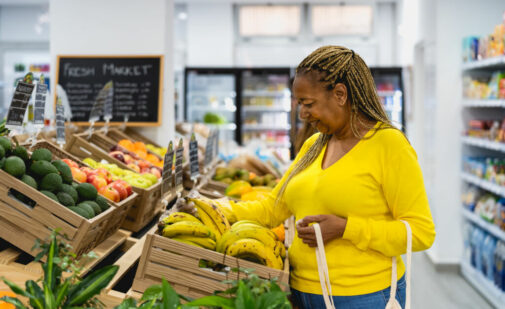 The old cliché goes that an apple a day keeps the doctor away, but a banana wouldn't hurt, either.
A study published in the European Heart Journal suggests that women, in particular, can help reduce high blood pressure caused by a salt-heavy diet.
"This study confirms what other long-term studies have shown — getting in enough potassium each day from food helps in lowering blood pressure," says Heather Klug, a dietitian with the Karen Yontz Women's Cardiac Awareness Center at Aurora St. Luke's Medical Center. "Potassium helps remove excess sodium from blood vessels, which also removes excess fluid. This helps blood vessels dilate better instead of constricting and thereby lowering blood pressure."
"The best way to lower blood pressure through healthy eating is to decrease salt/sodium and increase potassium, but even eating more foods high in potassium helps," Klug says.
While most people benefit from getting more potassium from food, it's important to check with your doctor first. Some medications may interfere, or some kidney issues can cause problems.
But if you're ready to move forward and get more potassium, you'll need more than just that banana.
"The amount of potassium that helps lower blood pressure is 3,500 to 4,700 milligrams per day, which means eating 7 to 10 potassium foods each day," Klug says.
High potassium foods include potatoes, leafy greens, cruciferous vegetables like broccoli and cauliflower, squash, tomatoes, fruit, beans, avocadoes, milk and seafood.
Here's what Klug recommends doing to get more potassium:
Include a fruit and/or vegetable at each meal. Double up on the non-starchy veggies to really boost potassium. Aim for half your plate to be vegetables.
Three to four times per week, eat dishes that include beans, peas or lentil such as split pea, lentil or minestrone soup and quinoa or brown rice with beans & veggies.
Include potatoes and sweet potatoes a couple days per week as the starch serving for your meal. Baked is best, otherwise limit toppings and stick to a portion size about the size of your fist.
Eat fish or seafood twice per week or more. Top with cooked tomatoes with basil or a fruit salsa for a double potassium boost.
For a quadruple potassium boost, eat a large salad of leafy greens and chopped cruciferous veggies and top with chickpeas, tomatoes and avocado.
If you drink milk, make this your go-to beverage at meals.
Eat plain yogurt for a snack and top with fresh fruit.
Snack on a small handful of dried fruit and nuts. Add dried fruit to hot or cold cereal and to salads.
Want to learn more about your risk for heart disease? Take a free online quiz to learn more.
Related Posts
Comments
About the Author
Mike Riopell, health enews contributor, is a media relations coordinator with Advocate Health Care and Aurora Health Care. He previously worked as a reporter and editor covering politics and government for the Chicago Tribune, Daily Herald and Bloomington Pantagraph, among others. He enjoys bicycles, home repair, flannel shirts and being outside.