Preserving dignity and reducing trauma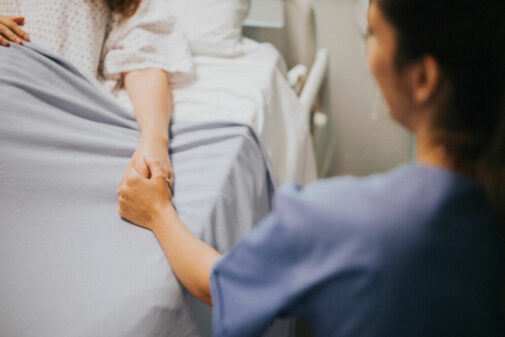 Fourteen years ago, when asked what I did for a living, I would quietly say I am a Sexual Assault Nurse Examiner (SANE). By feeling like I needed to be quiet, I was unintentionally attaching shame to the victim. But it's not their shame, so I won't be quiet.
Today, I proudly discuss my career.
This wasn't the path I envisioned for myself. While working as an emergency room nurse, I was presented the opportunity to become a SANE. A couple of days into the training, I felt totally out of my comfort zone and told myself the role wasn't for me. But by the third day, something clicked when the instructor was explaining how devastating it can be for sexual assault victims to show up to a hospital and not be seen by someone properly equipped to care for them.
SANEs are committed to providing compassionate care while preserving dignity and reducing trauma. When a patient reports an assault, a SANE takes over their care, conducting assessments, documenting injuries and collecting evidence for law enforcement. They collaborate with community partners, including advocates who ensure there is a safe place for a patient to go upon discharge. SANEs may also be called to testify if a case goes to trial. Because of these responsibilities, SANEs receive highly specialized training.
The role of a SANE isn't for everyone. Not every nurse is comfortable going to court or collecting evidence. Some are unable to care for a victim of violence because of their own trauma. We care for patients one at a time, assuring they feel heard. We need to understand the intricacies of some of the health problems our patients face. For example, certain HIV medication can only be given within 72 hours after an assault. This expertise helps make sure our patients are receiving the right care at the right time, just like it's important that a cardiac nurse care for a cardiac patient.
I'm also a certified strangulation expert in four counties in Wisconsin. Many people who have been strangled or choked don't realize the lasting impact an incident can have. They assume everything is okay once symptoms resolve. Strangulation doesn't just affect the flow of air to the lungs but also the flow of oxygen to our vascular system through our carotid artery and jugular veins. Any time blood flow is stopped, the brain can bruise, potentially causing trauma to the brain in the short or even long term. There is research being conducted on the risk of stroke, Parkinson's and early onset dementia among victims of strangulation. It's important that victims undergo CT imaging while in the emergency department to ensure their vascular system is intact and there isn't minor damage that could affect their future. After an abusive situation, we need to provide patients with a full picture of what's going on in their body both inside and out.
Being a SANE has shaped the way I care for patients. I understand there is a reason behind a person's actions and that I need to adjust my approach accordingly. To my fellow health care workers, be patient with every patient you come into contact with. You never know a person's history. Always make sure your patient feels empowered in their decision making and involved in their care.
I'm grateful for the opportunity to care for some of our most vulnerable patients. My work as a SANE has significantly impacted the way I approach life and how I instill hope in my children. Every day, I ask my 6-year old where he saw hope that day. We talk about the fact that even though life is full of hard things, good things happen, too. He knows that each of us needs to carry hope with us to find a path forward.
Deanna Grundl is the SANE/Forensic Nursing Coordinator of Aurora Sheboygan, Manitowoc, Summit & Washington County.
Are you trying to find a doctor? Look here if you live in Illinois. Look here if you live in Wisconsin. 
Related Posts
Comments
About the Author
Deanna is the SANE/Forensic Nursing Coordinator of Aurora Sheboygan, Manitowoc, Summit & Washington County.