How in-utero fetal procedures can help unborn babies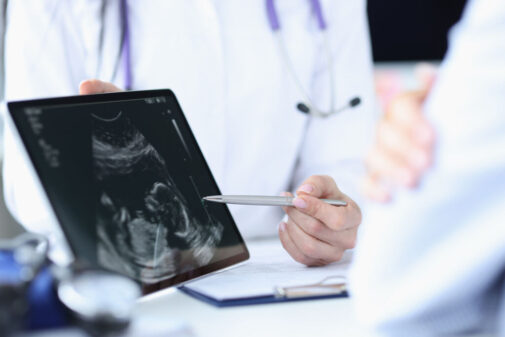 Pregnancy can be both exciting and stressful. That is especially true if you are facing unexpected complications from a high-risk pregnancy. Expectant mothers' emotions are often running high when they first go to see a maternal-fetal medicine physician. Most have been referred by their obstetrician because he or she has detected a problem or identified that the fetus is in some kind of distress. That distress can be the result of congenital heart conditions, growth abnormalities, spina bifida, cleft lip and palate, or issues related to multiples, to name just a few. Overall, maternal-fetal medicine teams effectively diagnose and, if necessary, intervene prenatally to address the issue with in-utero procedures.
According to the Centers for Disease Control and Prevention, birth defects occur in one of 33 or 3% of infants born in the United States. Some can be controlled or treated. Overall, congenital birth defects account for 20% of infant deaths.
Thanks to incredible advances over the past twenty years, families now have options to intervene and correct life-threatening birth defects before the baby is even born. It's an emerging field where complex in-utero procedures or surgeries result in the earliest possible intervention, significantly increasing positive outcomes.
A wide range of fetal conditions can be successfully treated surgically by a fetal surgeon or fetal interventionalist. Examples include prenatal surgical inventions for twin-to-twin transfusion syndrome, interventions for spina bifida or, in rare cases, provide ex utero intrapartum treatment (EXIT) procedures. These are highly specialized surgical delivery procedures for babies with, for example, airway issues. There are many other prenatal measures that are used to improve the chances for babies to survive and thrive. While these interventions can come as early as 16 weeks of development, most occur between 22-26 weeks. Quickly and correctly diagnosing a baby's abnormalities or challenges is extremely important. State-of-the-art imaging systems and, later, surgical ones, assist greatly in the process.
Before a fetal surgery occurs, you will receive expertise and counseling from pediatric physicians across multiple specialties to help you understand your child's condition and what to expect. Once you have answers, you also need time to make the decision that's right for you. The consultations often help families weigh benefits and risks.
Overall, the safety of the baby and pregnant person is the utmost concern.
Find maternal fetal medicine care near you in Illinois or Wisconsin.
Dr. Suwan Mehra is a maternal–fetal medicine physician at Advocate Lutheran General Hospital.
Related Posts
Comments
About the Author