Which type of physical exam do you need?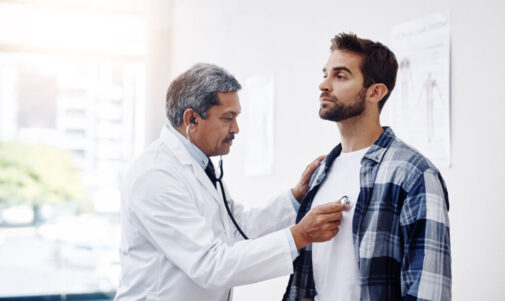 Your annual check-in with your primary care provider is a key part to maintaining your health. But did you know there are different types of yearly physicals? Between annual checkups, preventive screenings and keeping up with your vaccinations, you may be wondering what to ask for when you schedule your appointment. 
Dr. Bincy A Joseph, family medicine physician at Advocate Medical Group in Libertyville, Ill., says that most people should get a routine physical exam once every year. "We recommend an annual exam, even if you feel fine," says Dr. Joseph. "During this appointment, we perform a physical exam, check your weight and vital signs, and update your medical history if necessary." 
Physicals are also commonly called annual, preventive or routine exams. 
During your time with your provider, you will have an opportunity to: 
Address your health, any symptoms or changes

to your health

Discuss current medications

 

Evaluate your family history and risk factors

 

Get your blood drawn to check for indicators of health conditions or nutrient deficiencies

 

Schedule or perform a health screening

 

Receive any necessary vaccines

 

Screen for mental health problems

 
The type of health screening recommended depends on your age, risk factors and whether you are male or female. Common screenings include cancer screenings like a colonoscopy or mammogram and preventive screenings for diabetes and coronary artery disease. 
"Physical exams give us the chance to identify any issues that could become more serious over time," adds Dr. Joseph. "We can also schedule or perform important preventive screenings that allow us to detect health conditions early when they're easier to treat." 
A female exam also includes: 
A pelvic exam to check for lumps or other signs of problems

 

Breast exam to check for lumps or suspicious masses

 

Pap smear, if you're due

 

Birth control options and counseling, if requested

 

Recommendations for managing menopause symptoms, if needed

 
A male exam sometimes includes a testicular examination to check for lumps or tenderness. 
Your yearly physical is usually covered under insurance plans with minimal or no out-of-pocket costs. If you are under 40 years old and in good health, your provider may recommend coming every other year. If you have chronic health conditions, your provider may want you to visit them for exams more than once a year. 
Annual wellness visit 
What is the difference between an annual physical exam and an annual wellness visit? This appointment is intended to create a personalized, multi-year prevention plan that manages health risks with your provider.  
"An annual wellness visit does not include a complete exam like a yearly physical exam does," confirms Dr. Joseph. "It also doesn't include preventive screenings and vaccinations, so you will still need to schedule a yearly check-in with your doctor." 
Also called a Medicare wellness visit, this type of appointment is a free benefit if you have Medicare insurance. The prevention plan is unique to you and details when you should schedule doctor's appointments, get vaccinations and complete screenings. 
Sports physical 
If you have children in sports, you may be familiar with another type of physical visit: the sports physical. Dr. Joseph notes that it's important to make sure your child doesn't have any health issues that would put them at risk while playing sports.  
During this visit, your child's provider may review their bloodwork, behavior, nutrition, sleep habits, development milestones, current medications and their vaccinations. They will also perform a physical exam and take their vitals.  
This exam is usually done six weeks before the start of a season and isn't a replacement for a yearly check-up. It's also known as a preparticipation physical evaluation (PPE). 
Physical checklist 
No matter the type of visit, it's important to prepare ahead of your exam. Bring a list of medications, note any changes to your health history and write down any questions you may want to ask your provider. If you expect a blood test, you should also ask ahead about any required fasting. You should also bring any forms you need completed and your insurance and photo identification. 
Are you trying to find a doctor? Look here if you live in Illinois. Look here if you live in Wisconsin. 
Related Posts
Comments
About the Author
Macaire Douglas, health enews contributor, is a digital content strategist and writer with Advocate Health Care and Aurora Health Care. She studied journalism at the University of Wisconsin – Oshkosh and previously worked as a content director for a lifestyle publication. In her free time she enjoys reading, gardening and keeping up on pop culture.