A Wisconsin Army National Guard medic's journey to a career in behavioral health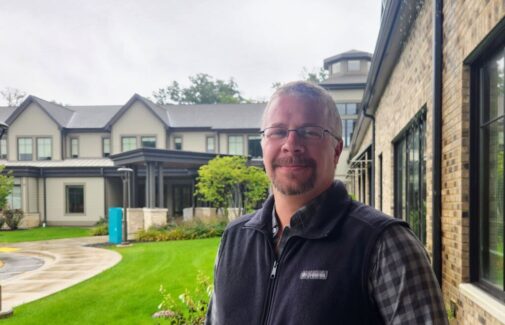 Mike Glime's career path started in survey engineering, but prior to going back to school to pursue the medical field, he joined the Wisconsin Army National Guard as a medic. Today, Glime is a physician assistant in behavioral health at Aurora Psychiatric Hospital and has been for the last six years. 
During Glime's psychiatry rotation in school, his first patient was severely depressed and the physician he was working with prescribed a new combination of medications. A month later that patient came back for a follow-up visit and that's when Glime realized he wanted to specialize in behavioral health. 
"Seeing my patient change in that month and become who he was before was a profound moment in my life. That was when I knew I had found my calling," recalls Glime.  
Deployed to Iraq in 2021, Glime served not only as an emergency medicine and primary care provider but worked with behavioral health patients as well. He now specializes in AODA (Alcohol and Other Drug Abuse) patients, working with many veterans. 
"Being open and receptive to our patients, especially veterans, gets rid of the rigidity that we have in the military and allows our patients to feel more comfortable ingraining back into society. We don't push any programs, we suggest them, which creates a trusting relationship," Glime says. 
Glime works with treatment teams for each of his patients weekly to ensure they are aligned on the focus for that week so they can tailor their care plans accordingly. These treatment teams can include nurses, case managers, therapists, chaplains, providers, dietary and pharmacy.   
Still working in the National Guard as a battalion physician assistant, Glime finds purpose and fulfillment in continuing to serve his country. His main goal at Aurora Psychiatric is to treat his patients as unique individuals. 
"In our program we tailor each patient's plan to what they need," he says. "Treatment can be wildly different dependent on the individual. Remembering that is key to our success and getting our patients back to how they want to live." 
People suffering from drug addiction often don't know what to do or where to turn. Asking for help is the first step to recovery. Learn more about the team Glime is on. 
Related Posts
Comments
About the Author
Amy Werdin, health enews contributor, is a provider public affairs coordinator with Advocate Health Care and Aurora Health Care. She has been with the organization for 19 years, starting out in marketing for Advanced Healthcare, then Aurora Health Care and now in her current role. She enjoys reading, movies and watching her two daughters dance and her son swim.