Head injuries in children and adolescents: What you need to know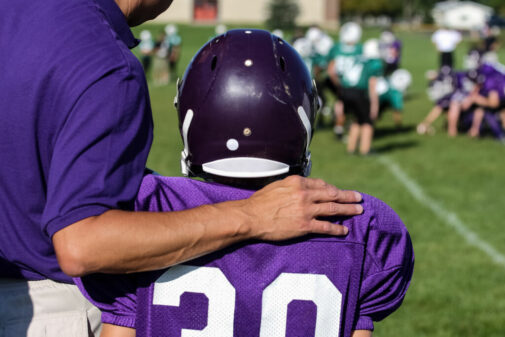 Head injuries are, unfortunately, very common and a leading cause of disability and death in children. The terms "head injury" and "head trauma" refer to a wide spectrum of severity. Depending on the extent of the injury, a neurosurgeon may be involved in your child or adolescent's care. Rest assured that our involvement in your child's care team does not mean they will need neurosurgery.
A neurosurgeon may be part of the care team if:
There is a concerning mechanism of injury, such as a high-speed bike, skateboard or car
The child experiences a loss of consciousness
The child experiences changes from their normal level of mobility or function
The injury also impacted the neck (neurosurgeons also monitor the spine)
We always become involved if there is any abnormality on a patient's imaging after an injury. This can include something minor, such as a hairline fracture of the skull or a small bruise/contusion of the brain. These injuries typically heal well on their own, but we will follow along with the patient even after they leave the hospital to ensure the healing process continues as expected.
The most common causes of head trauma vary by age. Infants and toddlers (0-4 years of age) most often come to us after falling. As children get older, their injuries become sports or recreation related. Of course, motor vehicle accidents are a source of head trauma for children and adults alike.
Sports-related head injuries are one of the most common causes of head injuries in children/adolescents aged 5 to 14. Any statistics that you see published are likely an underestimate, since kids with less severe head injuries aren't always brought to a hospital for evaluation. Football is a well-publicized source of head injuries, and it is one of the greatest culprits, but head trauma is seen across a wide range of sports or activities. Essentially, anything that involves contact with other players, moving at higher speeds (such as cycling or skateboarding), sports equipment in motion (bats, balls, clubs, etc.) or heights (such as the trampoline, playground equipment or horse-back riding) can result in a head trauma.
Luckily, most children sustaining blunt head trauma only suffer minor brain injury. However, long term effects of brain injury can vary widely based on severity, type of injury and location. Prevention is the best protection! Supervision and appropriate use of safety equipment (age-appropriate car seats/restraints, helmets and other sport-specific protective headgear) when children are participating in activities that put them at risk of head injury are paramount. Education for parents, coaches and childcare providers is key.
If your child suffers a head injury, there are many medical professionals in and outside of the hospital who can help guide you through their journey and recovery. Even a minor head trauma without a loss of consciousness may still result in concussion. Your child's pediatrician or other medical provider can help to provide guidance in managing this. There are also many resources online with additional information, such as www.cdc.gov/headsup. If you're not sure what's best, ask your child's pediatrician.
Dr. Daphne Li is a pediatric neurosurgeon at Advocate Children's Hospital.
Are you an adult that is having back or neck problems? Take a free online quiz to learn more. 
Related Posts
Comments
About the Author
Dr. Daphne Li is a pediatric neurosurgeon at Advocate Children's Hospital.