Carving pumpkins this weekend? Read this first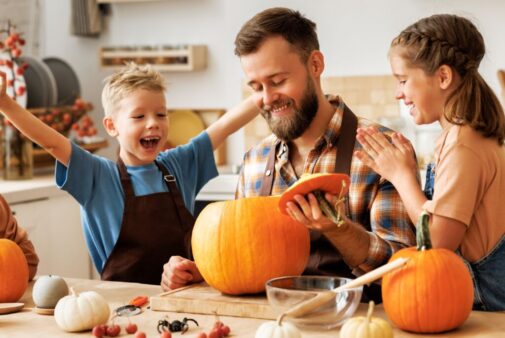 This holiday weekend, many families will be participating in Halloween festivities. But one tradition can be extremely dangerous if the right precautions aren't taken.
According to the U.S. Consumer Product Safety Commission,. there were 3,200 Halloween-related injuries treated in emergency departments across the nation over the past three years. Of those 3,200, 55 percent were related to pumpkin carving.
"This is an alarming statistic and why adult supervision is essential," says Dr. Emma Olivera, a pediatrician with Advocate Children's Hospital. "Pumpkin carving is meant to be a fun activity for the whole family, but things can go wrong quickly if proper precautions aren't taken."
She offers the following guidance for keeping you and your family safe while carving pumpkins.
Use the right tools: Put that steak knife down and instead purchase a pumpkin carving toolkit. They are designed to carve pumpkins much more safely than anything you'll find in a drawer in your kitchen. These tools are smaller and easy to control. Always make sure you are cutting away from your body.
Keep little hands out of the way: Only an adult should be touching the tools and carving the pumpkin. Kids can participate by choosing the design they would like an adult to carve, scooping out the insides and painting the pumpkin. Make sure children are standing at a safe distance, and always keep knives and other sharp carving tools out of reach.
Work in a dry, well-lit space: Many injuries occur because tools were slippery or the space was too dark. Remember to take your time – trying to work too quickly can lead to an accident.
Opt for a "no carve" option: Fun foam Halloween stickers or acrylic painting are excellent DIY alternatives to carving pumpkins.
Are you trying to find a doctor? Look here if you live in Illinois. Look here if you live in Wisconsin.
Related Posts
Comments
About the Author
Holly Brenza, health enews contributor, is a public affairs coordinator on the content team at Advocate Health Care and Aurora Health Care. She is a graduate of the University of Illinois at Chicago. In her free time, Holly enjoys reading, watching the White Sox and Blackhawks, playing with her dog, Bear and running her cats' Instagram account, @strangefurthings.