Can you exercise after a cardiac event?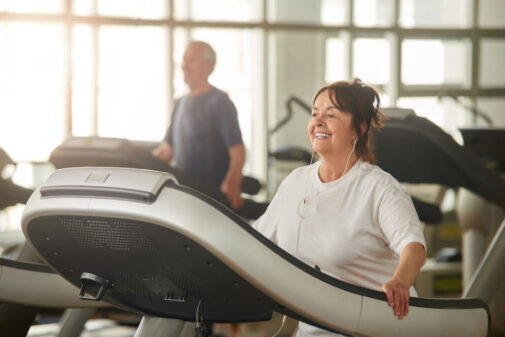 You've had a heart attack and maybe open heart surgery or another cardiac procedure – major events that can be hard to wrap your head around. There's little doubt that these are life-altering experiences. And now, on top of all that, the doctor wants you to start exercising.
The first thing that pops into your head might be "How can I possibly exercise now?" or "What if I can't breathe or I have another heart attack?"
Many people who survive a heart attack or have heart surgery worry that exercise could strain their recovering heart. Quite the opposite is true. A study shows that high levels of physical activity after a cardiac event can help you live longer.
Maintaining a regular exercise routine including walking, cycling, swimming or any aerobic activity that increases your heart rate can also help reduce blood pressure and cholesterol – two common coronary artery disease risk factors.
"The key is to begin slowly, and then very gradually ramp up your amount and intensity of aerobic exercise," says Denise Nagode, a cardiac rehabilitation exercise physiologist at Advocate Health Care.
She also recommends listening to your body as you workout. It's normal during exercise to feel slightly tired and aware of your breathing, but not out of breath. If you begin to experience any chest pain, dizziness or shortness of breath, slow down and take a break. If the symptoms continue, seek medical help.
Cardiac rehabilitation is a medically supervised exercise program recommended after a cardiac event or procedure. It's prescribed by your doctor and led by a team of nurses, exercise specialists, an exercise physiologist and sometimes a dietitian. The program is designed to improve your cardiovascular health if you've experienced a heart attack, heart failure, angioplasty or heart surgery.
"I tell patients that cardiac rehabilitation is a lot like physical therapy," says Nagode. "If you break your leg, you'll get the best results when you build up your strength through physical therapy. Cardiac rehab is the equivalent for your heart muscle."
Nagode says cardiac rehabilitation helps patients feel more confident about exercise because they know medical help is immediately available if needed.
Once they complete the program, patients are encouraged to continue exercising for 30 minutes at least three times a week.
"We love it when our patients come back to visit and let us know they're continuing to exercise," Nagode says. "The best is when they say they completed a marathon or a bike race."
A cardiac event does not mark the end of an active lifestyle. It can actually be the start of a long, healthy life.
Want to learn more about heart health? Take a free online heart health assessment.
Related Posts
Comments
About the Author
health enews staff is a group of experienced writers from our Advocate Health Care and Aurora Health Care sites, which also includes freelance or intern writers.