How safe are materials used to treat kids' cavities?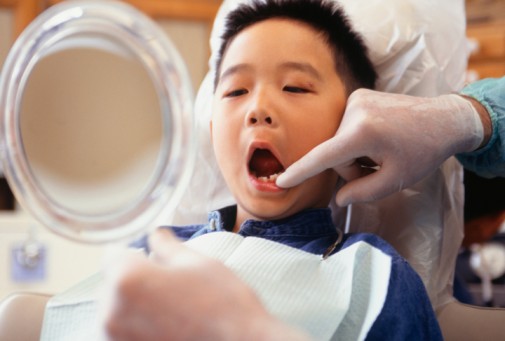 Remember when silver fillings were the enemy? Parents worried that exposure to mercury vapor in so-called amalgam fillings could cause health problems, including kidney malfunction, poor memory and attention deficit.
Enter white fillings, known as composites, which promised none of the evils of silver. Plus, they looked better. But new research indicates that tooth-colored fillings may cause some behavioral problems in children.
An eight-year study published last summer in the journal Pediatrics conducted by the New England Research Institutes found that children with two or more white fillings on chewing surfaces in the back of the mouth can cause increased anxiety, social stress and relationship struggles.
White fillings contain bisGMA, a material made from bisphenol-A or BPA, a component the Food and Drug Administration (FDA) recently banned in plastic baby bottles and sippy cups. Studies have shown that exposure to BPA earlier in life can lead to depression, anxiety and hyperactivity, especially in girls.
So if you've ruled out silver and now have to worry about tooth-colored fillings, what's left?
First, consider the facts.
The FDA itself still hasn't made its mind up about silver. In 2008, the FDA announced that there might indeed be dangers in silver fillings due to the release of mercury vapor.
Then in 2009, the FDA eased off these dangers a bit by stating that although amalgam does release these vapors, the levels are so low that they're safe for adults and children age 6 and older.
No studies link the vapors to health problems, and so far, the FDA is standing firm on this.
In late 2012, the American Dental Association announced that dental amalgam is "safe and effective in treating dental cavities," and the American Public Health Association noted the impact of environmental mercury contamination when using amalgam is minimal.
Still, many dentists are switching to composite fillings. According to the ADA, silver fillings are declining in use, especially with an increase in the popularity and improvement of tooth-colored fillings.
In a 2007 ADA survey, 51 percent of dentists who used amalgam reported a decrease in use. And the total number of amalgam fillings placed by dentists, based on results from a 2006 ADA survey, went from 122.7 million to 52.2 million.
So are composites problem-free? Only time will tell, says Dr. Leo Morton, division director of Advocate Lutheran General Hospital and a pediatric dentist in Hoffman Estates, Ill.
"Will we find in three years that these have problems too? I can't tell you that," Morton says. "Amalgam is still used, but most dentists have gotten away from it because we're still unsure."
Even the study's authors are uncertain about the long-term effects of composite fillings. Nancy Maserejian, a Watertown, Mass.-based epidemiologist at New England Research Institutes, acknowledged that the researchers can't be sure whether BPA or some other material released from the resin causes behavioral problems.
But at least with composites, you have options. "The sealants I use are BPA-free, and there are composites that have no bisGMA, and many of us have switched to those," Morton says. His advice: Talk to your dentist and find out what kinds of fillings are available.
Non-bisGMA alternatives to white fillings include:
Ceramic fillings: very expensive but metal-free and more resilient than even amalgam.
CeramX: contains fillers, microscopic in size, that may be harmful, but reports indicate that the most harm occurs when the fillings are made without proper precautions, and not in the filling itself.
Glass ionomer cement: often used as a temporary filling and ideal for baby teeth. Not very expensive, but may need to be constantly replaced.
Related Posts
Comments
About the Author
health enews staff is a group of experienced writers from our Advocate Aurora Health sites, which also includes freelance or intern writers.