AMA votes to lift lifetime ban on gay blood donors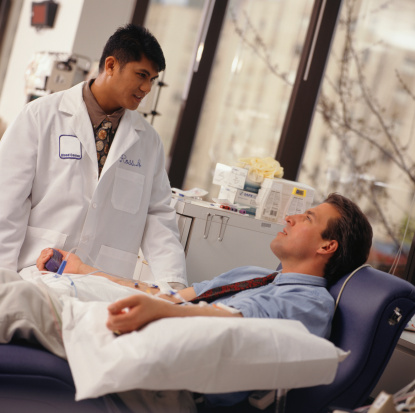 This past week the American Medical Association voted to remove a 30-year ban on blood donation from gay men.
In a statement, William Kobler, MD, AMA board member called the ban discriminatory and not based on sound science.
"This new policy urges a federal policy change to ensure blood donation bans or deferrals are applied to donors according to their individual level of risk and are not based on sexual orientation alone," he said.
Health experts say the ban, which went into effect in 1983, was the best course of action at the time because there was not a reliable screening test for HIV. The 1980s was the height of the AIDS epidemic—a time when gay men were considered among those most likely to be infected with the virus. The policy was put in place to help prevent transmission of the disease.
The AMA says because there are now strong testing processes and procedures in place to screen for HIV and other diseases, there is no longer a need to ban gay men from donating blood. In fact, later this week, on June 27, the country will pause to recognize National HIV Testing Day that spotlights the importance of knowing your HIV status.
Blood donation and its impact
The AMA vote aside, health experts say, blood donation is vital to help save lives. There are several criteria you must meet before you can donate blood including a 12-month waiting period for anyone who has had sexual contact with someone HIV-positive.
Here are a few other quick facts you should know:
There are generally four steps in the blood donation process including registration, medical history, a mini-physical and the actual donation.
The process typically takes between 10-15 minutes.
Roughly one pint of blood is given during a donation.
Type O-negative is known as the universal blood type and can be given to people of all blood types.
The American Red Cross has a complete list of blood donation eligibility criteria by topic on its website.
Beth Halperin, RN, who helps lead blood transfusion safety efforts at Illinois' largest health care system, Downers Grove-based Advocate Health Care says all blood donations are important.
"We perform thousands of transfusions each year at our 12 hospitals for patients who need it in order to survive," said Halperin. "Whether we're caring for a gun-shot victim, someone who has experienced a traumatic accident or a mom who needs a transfusion after experiencing significant blood loss while giving birth, the generosity of blood donors makes it possible for our medical teams to help save precious lives."
Looking ahead at the votes' impact
In addition to voting to remove the blood-donation ban, the AMA passed several other resolutions this past week, including officially recognizing obesity as a disease—a move some experts say could go a long way in changing social stigmas about obesity and helping to save lives.
The group also voted to remove sugar-sweetened beverages from the federal Supplemental Nutrition Assistance Program (SNAP), formally known as food stamps. Research has shown a strong link between obesity and sugary-laden drinks. Additionally, other research shows that over half of children's intake of bad calories comes from the beverages they drink.
Even though technically, these AMA decisions have no legal authority, some experts say the resolutions still carry a lot of weight because they tend to influence policy-makers.
Related Posts
Comments
About the Author
health enews staff is a group of experienced writers from our Advocate Health Care and Aurora Health Care sites, which also includes freelance or intern writers.