New study may yield cure for cat allergies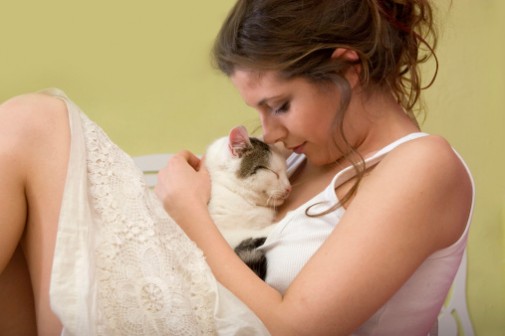 Relief from cat allergies may not be far away. Scientists in the U.K. believe they have found why cats produce allergic reactions in some humans. According to the Asthma and Allergy Foundation of America, nearly 20 to 30 percent of people with asthma suffer from symptoms as minor as itching or severe as full-blown asthma attacks when a cat is nearby.
"This is the first time we have discovered the process that leads to the allergic reaction. It opens up a whole new type of drug to treat it," says the study's author Dr. Clare Bryant, from Cambridge University's department of veterinary medicine in a statement. Bryant's research will be published in the Journal of Immunology.
Standard remedies such as antihistamines or allergy shots may soon be a thing of the past for treating cat allergies.  Cambridge University researchers say drugs such as inhalers and pills are already being developed specifically for cat allergies and could be available in as little as five years.
Researchers figured out that feline dandruff in fur, commonly called dander, carries a protein that triggers these annoying symptoms when coming in contact with a chemical in humans.  The allergen in dander has sticky properties which make it particularly easy to travel from cat to clothing, to carpet, to walls, handles, etc.  Even locations where no cat is present call be home to dander as it is routinely transported by humans.
This discovery allows for more precise and targeted remedies for allergic reactions in humans.
While the new remedies might not be ready for some time, doctors say there are ways to reduce and treat allergic reactions from pets.
While completely avoiding cat dander is impossible, there are steps you can take to reduce your exposure says Dr. Karen Jackson, clinical allergist and immunologist at Advocate Condell Medical Center.
"For people with allergies that have cats in the home, it's important to keep your cat out of the bedroom. Studies show that being in a hypoallergenic environment for six to eight hours will help decrease symptoms."
Dr. Jackson also suggests investing in HEPA (high-efficiency particulate air) filters, keeping your cat well-groomed to minimize loose dander, and ripping up carpet for hardwood floors.
"If you visit a household with a cat, be sure to regularly wash your hands, avoid touching your face and change clothes upon arriving home."
Are so-called hypoallergenic cats like the "hairless" sphinx the answer for allergy suffering cat lovers? Some breeds are said to be less likely to trigger symptoms. However, Dr. Jackson says any cat has the potential to carry allergens – regardless of breed, hair length, or how much it sheds.
Related Posts
Comments
About the Author
health enews staff is a group of experienced writers from our Advocate Health Care and Aurora Health Care sites, which also includes freelance or intern writers.