11 happiest and healthiest places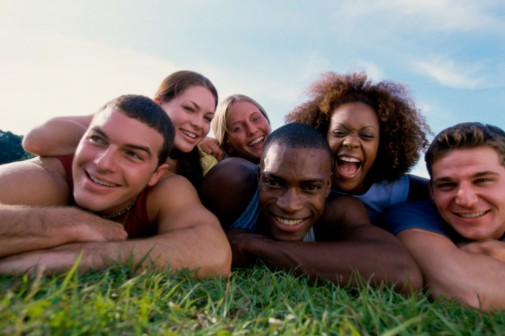 Recently ABC News evaluated 100 of the nation's largest cities plus one happy and healthy island, to nail down 11 of the happiest and healthiest zip codes.
Using 48 different measures, looking at everything from access to green space and low unemployment to the number of concert halls and farmers' markets—here's a look at who scored the network's coveted top spots.
Number One
First up, an island known for its residents' longevity—the Greek island of Ikaria, which is located some 5,500 miles away from the Windy City. So if you happen to live in Chicago, your family would have to board an 11-hour flight to the Greek island if you are looking to visit. Believe it or not, folks who reside in this beautiful slice of heaven are actually three times more likely to reach age 90.
What's their secret?
According to residents, while they do work hard, they also make sure they get plenty of sleep and regular naps. And they eat very well and enjoy lots of intimacy with their significant others.
Number Two
Sunny, San Jose, California landed the number two spot mainly because the city is known as an organic paradise of sorts with tons of farmers' markets giving residents plenty of healthy options to dine on.
Folks there say the delightful Mediterranean climate also makes it easy for them to enjoy avid gardening. And city leaders embrace the farming vibe too, offering a total of 18 community gardens. With this type of gardening accessibility to city dwellers, it's no wonder San Jose is high on the list of healthiest places.
Want to learn more about how eating nutritious can boost your health? Watch our nutrition boost video.
Number Three
Salt Lake City, Utah takes the number three spot thanks to its clean living and youthful-like residents. It also has some of the nation's lowest incidence of cancer and boasts some of the best cancer-survival rates.
What's their secret?
Folks there say the influence of the Mormonism and the fact that the religion doesn't allow smoking or drinking has a huge impact on its lower levels of cancer incidence. Residents in Salt Lake also watch their waistlines—keeping their weight in check, which research has shown to help reduce the risk of cancer as well.
Want to learn more about BMI and how it impacts your health? Click here.
Number Four
From excellent cancer care to leading-edge care for your ticker, Minneapolis/Saint Paul, Minnesota scores the number four spot for its heart-healthy ways.
What's their secret?
Residents dub the city a "scenic hub of happiness" because of it many parks, bike paths, lakes and more, which are all by design. According to city planners, they have spent decades making Minneapolis, Saint Paul a place that fosters great heart health.
The city also has the some of the highest numbers of farmers' markets giving residents access to an abundance of fresh produce. Research shows that exercise and healthy diet two of the best ways to help lower your risk of heart disease.
Number Five
It may be no surprise to many that a city on the West Coast would likely make the list of Top 10 and equally it's likely no surprise why—fitness and Disney.
Anaheim, California landed the number five spot because its residents are all about keeping fit, trim and HAPPY. And because the city offers great access some of the best fitness gyms, fountains, gardens and parks— folks in Anaheim have coined their city one of the happiest places on earth.
Oh, and it doesn't hurt Anaheim is home to Disneyland , where tourists from across the globe visit every year to get their happy on too.
Want to learn more about how fitness can help you find your happy place. Click here.
Number Six
Another West Coast city nabbed the number six spot and can you guess why? If you said fitness then you are correct. Residents in San Diego, California are among the most active in the county. And they have a lot of beautiful areas for folks to enjoy a Zen workout routine.
From pristine beach running and sports to canyon and mountain trails, folks in San Diego have figured out the magic to making fitness happy and healthy.
Number Seven
Fargo, North Dakota lands the number seven spot because of its religious roots to joy.
In Fargo, making sure your church attendance record is perfect is the "it" thing to do. Folks there seemed to have uncovered that group church gathering are not only a source of spiritual growth but also a time to foster happiness and healing.
As one resident told ABC News, "People genuinely seem to want to belong to something that's bigger than just themselves. And the more you connect with other people, the more joy you get back."
Want to learn some healthy ways to flex your faith? Click here.
Number Eight
The home of the famous Golden Gate Bridge comes in at number eight on the list. San Francisco seems to have an almost endless variety of cultural offerings, which residents say they have some of the highest mental and physical health scores.
Folks in San Francisco have plenty to do from bison watching to art shows and tea gardens, its big city charm is why residents love it and tourists too. And science shows that attending cultural events may even lower blood pressure and help ward off depression and anxiety.
Number Nine
Madison, Wisconsin takes the number nine spot for thanks to low crime rates and affordable and available fresh produce.
Surrounded by two sparkling lakes, Madison is known as a natural beauty. But good looks aside, the city folks there brag on the low crime and easy-to-find, cheaply priced healthy foods.
Residents say civic involvement is just part of its DNA, and because city leaders are committed to putting safety first, folks are happy and free to roam the town and take advantage of all Madison has to offer.
Number Ten
At number ten, Sioux Falls, South Dakota has some of the highest levels of self-reported health. That's residents there brag about their health—mostly reporting "good or better"
They also give their city high marks for low crime, good unemployment rates and access to health insurance. Even though the atmosphere is laid back, there are still plenty of things to enjoy like beautiful Falls Park, which spans more than 123 acres, plenty of shopping and new restaurants to enjoy healthy bites.
Number Eleven
The birth place of our current President, Barack Obama comes in at number 11. Dubbed the ultimate happy place, believe it or not Honolulu, Hawaii is known for its diversity and off-the-charts mental health scores.
But let's get to the long list of other reasons why residents there and tourists around the world can't get enough of Honolulu—it's beaches, the rainbows, waterfalls and balmy island breezes all year-round.
If reading this line makes you as happy as it made me writing it, then make sure Honolulu is on your bucket list of happiest and healthiest places to visit.
Related Posts
Comments
About the Author
health enews staff is a group of experienced writers from our Advocate Health Care and Aurora Health Care sites, which also includes freelance or intern writers.