The upside to the arctic blast: Weight loss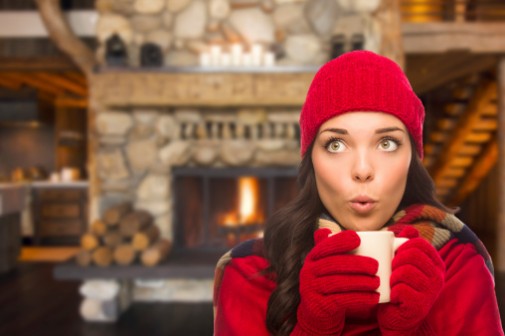 You may be shivering through this frigid winter—with its arctic blasts and record low temps—concerned with how it may be slowing your resolution to lose a few extra pounds.
However, according to new research out of the Netherlands, taking advantage of the cold to shed some weight may be as simple as adjusting your thermostat.
A new study published in the medical journal Trends in Endocrinology & Metabolism states that lowering internal temperatures gradually, along with a healthy lifestyle, can speed your metabolism and help you lose weight. Though this doesn't mean you should spend extra time outdoors in subzero chill.
"We suggest that regular exposure to mild cold may provide a healthy and sustainable alternative strategy for increasing energy expenditure," says Wouter van Marken Lichtenbelt, the lead author of the study, in a press release. "Thermal comfort in the built environment may increase our susceptibility to obesity and related disorders. Mild cold exposure increases body energy expenditure without shivering and without compromising our precious comfort."
The researchers studied 17 participants in climate-controlled environments heated to 59 degrees for six hours a day. They found that, after 10 days, the participants showed an increase of healthy brown fat—fat that uses energy from food or stored fat to produce body heat—and acclimated to the colder temperature. Therefore, the participants' bodies were burning fat to keep warm, boosting their metabolisms.
According to the study findings, by keeping your environment a little cooler, around 62 degrees, your body will be enough to show results without risking your health. Since indoor temperatures are typically kept higher in the winter to compensate for freezing temps outdoors, the researchers concluded that the increase may contribute to obesity.
Dr. Paul Ringel of Advocate Illinois Masonic Medical Center in Chicago agrees with the study findings, but cautions against what he thinks could simply be a weight-loss "gimmick."
"Weight loss is basic math—fewer calories in and increased calories out," Dr. Ringel says. "So the idea is theoretically sound and probably safe. But I wouldn't recommend it as a weight-loss method. This does not supplant the need for diet and exercise."
He says studies like this one remind him of the experience of a high school friend.
"Before a final in French class, he tried listening to French on tape, while he was asleep, to learn subconsciously," Dr. Ringel says. "He failed miserably."
Related Posts
Comments
About the Author
health enews staff is a group of experienced writers from our Advocate Health Care and Aurora Health Care sites, which also includes freelance or intern writers.