3 tips to reduce your salt intake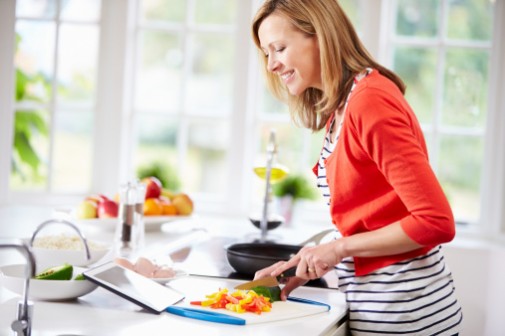 When it comes to salt in our diets, it's all too easy to go overboard. The American Heart Association recommends 1,500 mg of salt per day, yet the average American consumes between 4,000 and 6,000 mg each day. 
Cathy O'Shea, a registered dietitian at Advocate Sherman Hospital in Elgin, Ill., offers the following tips to help reduce sodium in your diet: 
Beware of processed foods.
They come in many forms, but slashing your fast food and frozen meal consumption is a good way to start lowering your daily sodium levels. Also, be sure to read the label on packaged products to find out the amount of sodium in a single serving. We always teach our heart patients the magic number of 140," O'Shea explains. "If the label is anything above 140 mg sodium per serving, you should look for something with lower sodium."  
Give the saltshaker a rest.
Whether you're at home or eating out, it's a common habit to apply additional salt before the food is even tasted. If you're looking to boost the flavor of a meal, O'Shea recommends using spices such as garlic or onion powder, lemon juice, balsamic vinegar or even a small amount of Tobasco sauce. "There are many spices available to enhance the flavors of different types of dishes," O'Shea says. "For example, if you're making fish, you can use dill or if it's an Italian dish, you can use basil." 
Eat fresh!
O'Shea recommends eating plenty of fresh fruits and vegetables, plain, unprocessed meats and whole-grain rice, pasta and breads. These types of foods are naturally low in sodium. Other options include plain frozen vegetables (without any sauces or added salt), low-sodium canned vegetables and dried beans. 
O'Shea also shares a nutritious recipe with plenty of flavor yet minimal sodium. 
Rainbow Salad  
Ingredients
1 cup fresh or frozen corn kernels
1 cup frozen edamame
1 head nappa cabbage
3 heads baby bok choy
1 small head red cabbage
2 carrots
1 can black beans, drained and rinsed
½ cup toasted silvered raw almonds
½ cup chopped raw pecans
½ cup golden raisins
3 tablespoons fig or raspberry vinegar 
Directions
Put the corn and edamame in a bowl in the sink and cover with water. Set aside. Slice the nappa cabbage and bok choy crossways into thin ribbons and add to a large bowl. Shred the red cabbage and the carrots in a food processor and add them to the bowl along with the almonds, pecans, raisins and beans. Drain the corn and edamame and add to the bowl. Drizzle the vinegar over the top and toss well. Let the mixture sit for about 15 minutes and toss again. 
Each serving provides:
332 calories, 12g protein, 20g fat, 140mg sodium, 36g carbohydrate, 10g fiber. 
Recipe credit: Oldways Nutrition Exchange
Related Posts
Comments
About the Author
health enews staff is a group of experienced writers from our Advocate Aurora Health sites, which also includes freelance or intern writers.