Ballpark food working against kids' health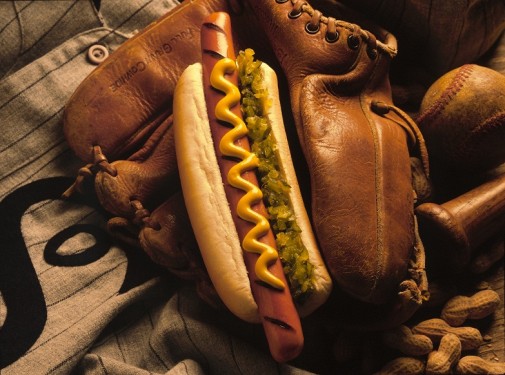 For many families, much of summer revolves around youth baseball. Days and nights are spent at Little League and Babe Ruth diamonds for countless games and practices all over the country. While baseball promotes an active lifestyle for kids, a recent study of youth baseballers suggests that some of the game's positives might be undone by the food environments at the ballparks that families frequent.
Researchers from Wake Forest University recently studied the foods eaten by players and family members during 12 games at a youth baseball field in North Carolina. The players were boys 8 to 11 years old on six teams.
The observational study found that most snacks were high-calorie food items, including French fries, candy and cookies. Most beverages were sugar-sweetened. Nearly 90 percent of food and beverage items purchased were from the concession stand.
"If you look over the menu at a typical ballpark, youth or professional, there are very few items that would truly qualify as 'healthy'," says Tarah Hoffman, a registered dietitian at Advocate South Suburban Hospital in Hazel Crest, Illinois. "Ballpark food is part of the baseball experience, but people need to be mindful of the effects of too many ballpark meals over the course of a season."
Hoffman recommends that parents pack healthy snacks such as fresh fruit and vegetables for the diamond. She also says to bring plenty of water to reduce trips to the concession stand for sugary sodas.
For those who do choose to eat off the concession stand menu, Hoffman says that there are ways to eat relatively healthy.
"Many concession stands now offer a grilled chicken sandwich option, which is a delicious and healthy alternative to higher calories and fat choices such as cheeseburgers and bratwursts," she says. "For kids, you might consider snacks such as frozen yogurt or yogurt parfaits, which are showing up in some parks, instead of ice cream and cotton candy."
The Wake Forest study team says that this study is the first step in exploring the question of whether children and families attending youth sporting events may be increasing their risk for being overweight or obese as a result of chronic unhealthy food behaviors associated with sports participation.
Enjoying the physical activity of baseball and the ballpark experience with the family is important, says Hoffman. But, so is making healthy choices that may impact everyone's health and wellness for years to come.
"Exercise and family time spent at ballgames are wonderful things that baseball offers," she says."But, people need to stay conscious of how their time away from the family table can affect everyone's nutrition."
Related Posts
Comments
About the Author
Nate Llewellyn, health enews contributor, is a manager of public affairs at Advocate Medical Group. Nate began his career as a journalist and builds daily on his nearly 20 years of writing experience. He spends most of his free time following his wife to their two sons' various activities.