An extra cup of coffee, reduce your diabetes risk?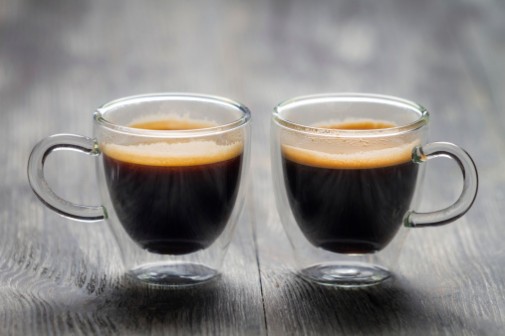 With recent studies touting the health benefits of coffee, it appears that your daily caffeine habit might actually be good for you.
According to a new study published in Diabetologia, the journal of the European Association for the Study of Diabetes, people who increase their coffee consumption by more than one cup a day for several years are less likely to develop Type 2 diabetes.
Researchers analyzed the diet, lifestyle and medical conditions of more than 123,000 medical professionals who were part of three different long-term studies over a period of 20 years. Diet changes were tracked every four years, while lifestyle and medical changes were tracked every two years. During this time period, 7,269 participants were diagnosed with Type 2 diabetes.
Increasing or decreasing coffee consumption was shown to have an impact on a person's risk for Type 2 diabetes. In fact, participants who increased their coffee consumption by at least one cup per day had an 11 percent lower risk of Type 2 diabetes. Participants who decreased their coffee consumption by the same amount were shown to increase their Type 2 diabetes risk by 17 percent.
According to Dr. Ramon Gonzalez, family medicine physician on staff at Advocate Sherman Hospital in Elgin, Illinois, coffee has many beneficial bioactive compounds and antioxidants. For example, coffee has magnesium that helps to improve glucose metabolism in the body. The most beneficial compound found in coffee appears to be chlorogenic acid, which is derived from the unroasted green coffee bean. It can also be found in nutritious foods like apples, pears, eggplants and blueberries, Dr. Gonzalez notes.
"Chlorogenic acid inhibits glucose-6-phosphatase, an enzyme that promotes the production of glucose in the body," Dr. Gonzalez says. "With regular coffee consumption, this powerful compound may help to prevent glycemic disorders, such as hyperglycemia and diabetes, from developing in the future."
Since the chemical compounds found in coffee itself, not caffeine, were shown to reduce Type 2 diabetes risk, researchers also analyzed the impact of changes in decaffeinated coffee or tea consumption. They found that both drinks had no statistical effect on reducing Type 2 diabetes. This is most likely because participants did not drink decaf or tea.
While coffee appears to have many health benefits, Dr. Gonzalez emphasizes that increasing your coffee consumption should only be one small part in preventing Type 2 diabetes. Still, a healthy diet and regular exercise remains the best course of action.
"Perhaps the most important piece of advice is for people to understand that coffee is not a miracle drug," Dr. Gonzalez says. "The best way to decrease the risk of diabetes is through proper nutrition and exercise. Once you have a healthy lifestyle, then you can enjoy a couple extra cups of coffee each day for some added health benefits."
Related Posts
Comments
About the Author
health enews staff is a group of experienced writers from our Advocate Aurora Health sites, which also includes freelance or intern writers.