Winning the battle against sleep apnea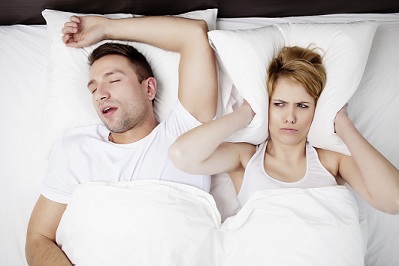 Each night, many sleeping Americans battle with a chronic enemy—sleep apnea, and unfortunately, they don't even know it. According to the National Institutes of Health, sleep apnea plagues nearly 50 million Americans – preventing them from receiving a good night's rest. The best way to overcome this enemy can be as simple as a phone call to your primary care physician.
Sleep apnea is one of the most common forms of sleep or wakefulness disorders. It occurs when the airways become partially or completely blocked, causing a sleeper to snore. In some cases, a sleeper may even experience short breathing pauses throughout the night.
While the breathing disruptions are brief, lasting seconds to a few minutes, they may happen repeatedly—30 or more times—during the course of an hour. When this disruption occurs, it causes the brain to wake from sleep to help the body resume breathing. Often, the frequent breathing pauses frighten a bed partner, who hears his or her sleep companion snoring loudly or struggling to breathe.
Physicians typically assess whether a patient is indeed suffering from sleep apnea by asking questions about the family history. They may also have the patient participate in a sleep study where they are monitored while sleeping.
"Each year, more Americans are diagnosed with sleep apnea," says Dr. Muhammad Hamadeh, pulmonologist at Advocate Christ Medical Center in Oak Lawn, Illinois. According to a study published in the American Heart Association journal, the increased rates of sleep apnea are linked to higher rates of obesity, a problem that affects one in three Americans.
Light at the end of the tunnel
One of the best tools in the fight against sleep apnea is a device called the continuous positive airway pressure (CPAP) machine. The CPAP machine helps to provide a steady flow of oxygen to patients during their restful periods virtually eliminating the continuous sleep disruptions.
"The machine has improved in recent years, providing greater patient comfort and increased airflow to meet patient demands," says Dr. Hamadeh. Oral devices similar to mouth guards also can be prescribed to those diagnosed with mild to moderate cases of sleep apnea, he adds.
Related Posts
Comments
About the Author
health enews staff is a group of experienced writers from our Advocate Aurora Health sites, which also includes freelance or intern writers.