How much dye is really in kids' food?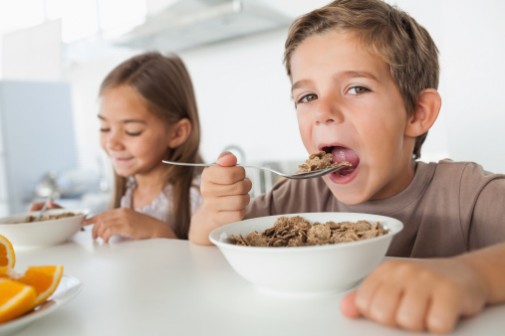 Food dye is everywhere, from cookies and pudding to pickles and soda. Yet the long-term effects of consuming high amounts of artificial dyes remain unknown – a fact that is cause for concern.
In the first study of its kind, Purdue University researchers revealed the amount of food dye in several brand name products.
One cup of Trix cereal contains 36.4 milligrams of food dye, a serving of Sunny D Orange Strawberry drink contains 41.5 mg, a serving of Skittles contains 33.3 mg, and a serving of Kraft Macaroni and Cheese has 17.6 mg, researchers found. A child who eats each of those foods in one day would be consuming over 100 mg of food dye.
The average American eats five times more food dye than they consumed in the year 1950, according to the Food and Drug Administration (FDA). Currently there is no definitive evidence regarding the impact of food dyes on kids' behavior or guidelines of how much food dye is safe to consume. Concerns from consumers that food dye can lead to behavior disorders have led some companies to remove dyes from some food products, the FDA says.
"There were a lot of studies back in the 1970s and 1980s that used 26-27 milligrams of dyes and found that very few kids seemed to react to that amount," said Laura Stevens, the study author and research associate in nutrition science at Purdue University, in a statement. "But when they increased it to 50-100 milligrams then a greater proportion of children reacted."
Parents should monitor their kids' behavior to see if specific foods trigger a change in behavior, advises Dr. Heidi Swanson, a pediatrician at Advocate Good Samaritan Hospital in Downers Grove, Illinois. Additionally, parents should avoid purchasing sugary breakfast cereals as well as sugary beverages. Instead, she suggests adding a fruit or vegetable to each meal and focus on eating healthier foods packed with nutrition.
"Whether a food has dye in it or not, the more natural the food the better," Swanson says. "Fresh fruits and vegetables are much healthier than processed foods
Related Posts
Comments
About the Author
health enews staff is a group of experienced writers from our Advocate Aurora Health sites, which also includes freelance or intern writers.