Fortified cereals put children at risk for vitamin overdose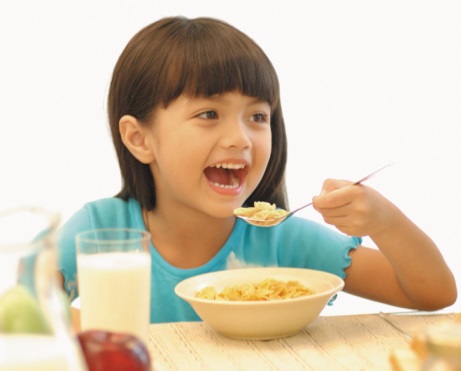 It's important for children to get as many nutrients as possible, and parents choose a variety of ways to ensure their children get the proper vitamins and minerals. Apparently, it's possible to have too much of a good thing though. According to a new study, children can consume way too much of certain nutrients through fortified foods.
In the Environmental Working Group's investigative report published in late June, young children are at risk of consuming three nutrients in excess: vitamin A, niacin and zinc. The report found that the No. 1 source for these nutrients is fortified breakfast cereals.
The problem appears to be less with the nutrients and more with the labeling. The three nutrients added to fortified breakfast cereals are in amounts calculated for adults, not children.
Researchers examined nearly 1,600 cereals and found that 114 were fortified with 30 percent or more of the adult Daily Value for vitamin A, niacin and/or zinc. Cereals they evaluated included General Mills' Total Raisin Bran, General Mills' Wheaties Fuel, Kellogg's Cocoa Krispies and Kellogg's Krave, among others.
"When a parent picks up a box of cereal and sees that one serving provides fifty percent of the Daily Value for vitamin A, he or she may think that it provides fifty percent of a child's recommended intake," said study co-author Olga Naidenko in a statement. "But he or she would most likely be wrong, since the Daily Values are based on an adult's dietary needs," said Naidenko, an EWG research consult based in Washington, D.C.
The report revealed that the federal nutrition labeling system used on most food products relies on obsolete dietary Daily Values. Daily Values date back to the late '60s and use adults vs. children for its calculations.
Compounding this problem is the notion that the fortified claims encourage consumers to buy foods that seem healthier even though they may not be. Although vitamin A, niacin and zinc are key components of health, high doses can be toxic.
Excessive amounts of vitamin A from supplements, for example, can damage the liver, and lead to hair loss, brittle nails and skeletal abnormalities. Too much zinc can harm immune function and affect red and white blood cells. Although niacin is less toxic than vitamin A and zinc, too much of it can cause symptoms such as nausea, vomiting and rash.
Researchers concluded that to address these problems, the U.S. Food and Drug Administration must:
Set recommended Daily Value percent levels that reflect current science
Require that nutrition labels on products marketed to kids show Daily Values percentages specific to each age group
Update the serving sizes on Nutrition Labels to accurately reflect larger portions that Americans eat
Recommendations for parents include giving children products with no more than 20 to 25 percent of the adult Daily Value for Vitamin A, niacin and zinc in a single serving. Also, the researchers encouraged parents to monitor how much their children eat of these and other foods so they don't overdose on these nutrients, particularly if their children take a daily vitamin.
Related Posts
Comments
About the Author
health enews staff is a group of experienced writers from our Advocate Aurora Health sites, which also includes freelance or intern writers.