Virtual visits reduce stress in hospitalized kids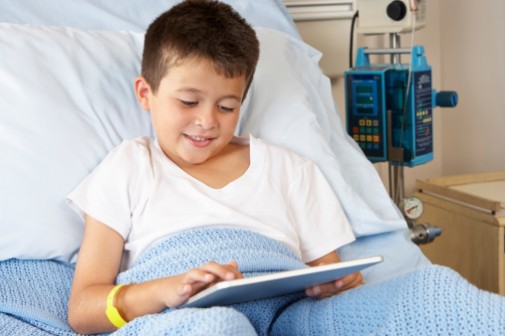 Through the eyes of a hospitalized child, the new, unfamiliar surroundings can be a scary place that is filled with strangers far from the comfort of their home.
Oftentimes, children are not only feeling sick but also homesick for the family and friends they are accustomed to seeing regularly. A recent study examined a technological approach that helps to deter young patients from feeling isolated and stressed due to homesickness.
The report, published in the journal Pediatrics, found that stress levels were reduced in patients who virtually visited with their loved ones outside the hospital using a videoconferencing program compared with children who did not have the same opportunity.
Researchers from the University of California (UC) Davis Children's Hospital measured stress levels at admission and discharge of 367 pediatric patients who were hospitalized for at least four days. Throughout their hospital stay, 232 of the kids were allowed to connect with family and friends using the hospital's videoconferencing program, while the remaining 135 patients had no access to the virtual visit program.
The team, led by UC Davis Professor James Marcin, calculated the patients' stress levels by surveying parents on their child's emotions, communications, sights and sounds and appearance upon the child's hospital admission and discharge. With their findings, the researchers concluded that hospitalized children and families who conducted virtual visits with family and friends outside the hospital was associated with a greater reduction in stress during hospitalization than those who did not use videoconferencing.
"With videoconference apps like FaceTime and Skype readily available on most mobile devices, it's typical to see pediatric patients in a virtual face-to-face conversation during a hospital stay," says Lisa Boland, child life manager and certified child life specialist at Advocate Children's Hospital  in Oak Lawn and Park Ridge, Ill. "We also use Skype to connect patients to their school classroom during lessons or reading times to help make the child still feel included."
Boland added that anything which will help normalize a child's environment during a hospital stay is beneficial to their wellbeing. Parents also can take proactive steps to decrease stress by packing age-appropriate toys and games for their children to play with during the stay.
Related Posts
Comments
About the Author
Julie Nakis, health enews contributor, is manager of public affairs at Advocate Children's Hospital. She earned her BA in communications from the University of Iowa – Go Hawkeyes! In her free time, she enjoys spending time with friends and family, exploring the city and cheering on the Chicago Cubs and Blackhawks.